As well as having styled Bollywood superstars such as Hrithik Roshan and top models including Cindy Crawford for the front covers of the likes of Vogue and Harper's Bazaar, Asgar Saboo's work has also graced the fashion and style sections of national newspapers such as The Observer, The Times, The Independent and The Daily Mail. This November, the hair maestro and Style Director at the Daniel Galvin Salon in London, has prepared the perfect guide on how to achieve two of the most eye-catching hairstyles to accompany your little black dress, just in time for the Christmas party season!
The French Twist Up-Do
1. Using a fine comb, section off two or three layers of hair at the back of the crown of your head.
2. With each section, brush the hair through and then backcomb at the root, to create volume and strong hold in the hair.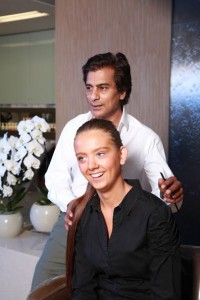 3. Where each section has been backcombed at the root, apply a small amount of hairspray so that the volume created by the backcombing in each layer remains.
4. Then, take a natural bristle hairbrush and brush all of the hair back into a ponytail, ensuring that you gather the hair around the layers which were backcombed, to create a pontail with good root lift and a bouffant style.
5. Once the hair is gathered into a ponytail, twist the hair around and hold against the head, tucking the ends of the hair underneath the twist itself.
6. Using strong kirby grips, secure the twist all the way around and apply medium strength hold hairspray to ensure the hairs do not fall.
Extra Tip: for a touch of fun and flirty, let down wisps of hair at the front of the crown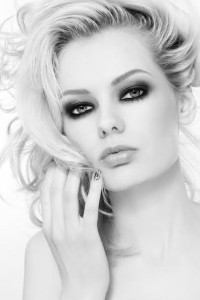 Tumbling Tresses Down Do
1. For this style, you will need a pair of medium sized curling irons.
2. Firstly, blow dry freshly washed hair, in a smooth, downward motion.
3. Then, take small to medium sized sections of hair, depending on how thick the hair is and wrap each around the irons, starting at the roots.
4. After working through the whole head, run some light serum through the waves, to help mould the curls.
Extra Tip: Always ensure heat protectant is used to protect the hair from any heat damage.
Photo credit: Javed Mohammed