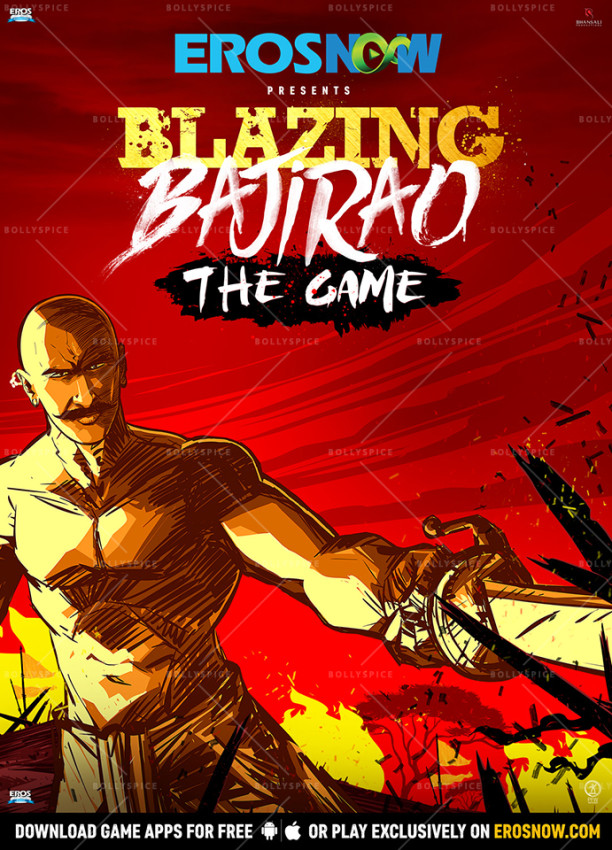 ErosNow, the on-demand entertainment portal of Eros International, today announced the launch of the trailer of 'Blazing Bajirao The Game' for their upcoming magnum opus, Bajirao Mastani. An extension of ErosNow's unique digital marketing innovation, the successfully-running web series, Blazing Bajirao, the game will be available on the 10th of December 2015 for download on the Apple App and Google Play stores. The web version will be available exclusively on erosnow.com.
After Mughal-e-Azam, comes Bajirao Mastani, the country's next big labour of love. Known to create nothing short of masterpieces, director Sanjay Leela Bhansali promises to outdo himself with this visual spectacle. And befitting a magnum opus of this stature, 'Blazing Bajirao The Game', will be adrenaline pumping, high octane and reflective of the legendary Peshwa's supremacy.
In an epic hunt for love and glory, the interactive game invites players to embark on a thrilling adventure as they battle as Peshwa Bajirao, the undefeated warrior of the Maratha empire. As players progress through the game, they must fight through hordes of enemy infantry and archers in search of Mastani roaring 'Har Har Mahadev'!
Commenting on the launch of the game, Rishika Lulla Singh, CEO, Eros Digital said, "ErosNow has been pushing boundaries with unique digital initiatives for the promotion of Bajirao Mastani. After the success of India's first graphic web series, Blazing Bajirao, the game was a natural progression to take digital promotions to the next level. The game is of stellar quality and gamers can now become Peshwa Bajirao, the great warrior themselves and experience the exhilaration of battle victory using swords, bows and arrows."
Game Features:
· Blitz your way through countless waves of the enemy
· Dismember enemies using your sword, bows and arrows
· Use the might of your special Urumi attack to obliterate enemy battalions
· Avoid enemy towers and elephant mounted defences
· Collect gold to buy weapons and upgrades
It is truly a great time for cinema as once every 50 years does a film of this calibre comes from India. Promising to be not just a film, but an experience, Bajirao Mastani remains one of the most anticipated films in the history of Indian cinema.
Eros International and Bhansali Productions' Bajirao Mastani, directed by Sanjay Leela Bhansali, starring Ranveer Singh, Deepika Padukone and Priyanka Chopra will release worldwide on 18th December 2015.