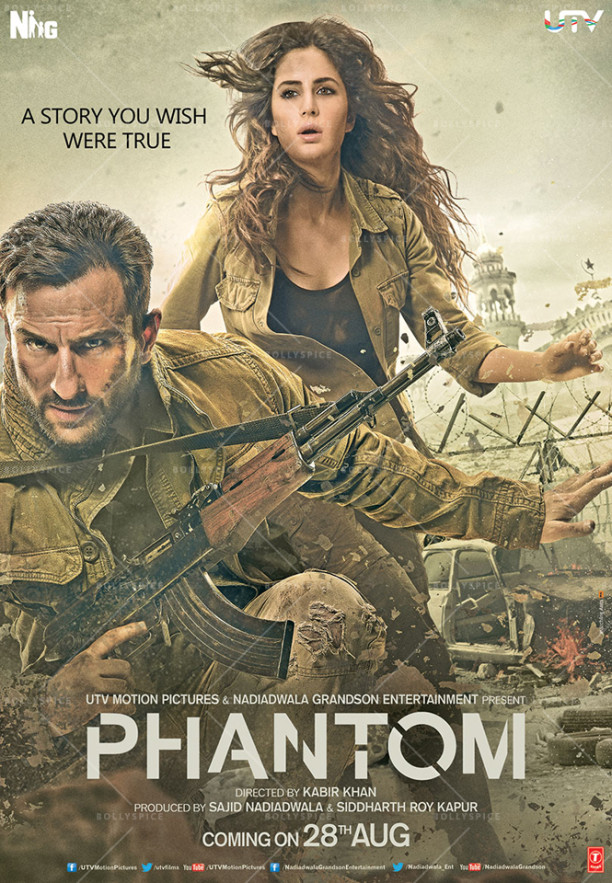 Director Kabir Khan is back with his second release of the year, Phantom, which centers around espionage and the 26/11 Mumbai attacks with Katrina Kaif and Saif Ali Khan in lead roles. Ensuring that the film is success is crucial, and this time there's no Salman to help, so he's recruited Pritam for the music.
To start off with we have Afghan Jalebi, which is the sure-fire hit song to get people hooked and while that's a good strategy, there is really no need for four versions, which take more than half of the soundtrack with two additional songs to cover the bases. Let's take a look at each one.
From the outset, Afghan Jalebi (Ya Baba) hooks you in with the fun guitar riff and clapping that will pepper this track throughout. Yet, it's singer Asrar's energetic vocals that make this original version worth singing along to, whether he's whooping or drawling on the flirty lines. Amitabh Bhattacharya keeps the lyrics catchy and witty, with that catchy chorus that'll have you singing 'Ya Baba.' This initial track is great, but the need for a Filmy Version is a bit redundant since it just adds more Pritam quirks of harmoniums, flutes, and electro beats. However, kudos where it's due as recruiting Asrar and Akhtar Chanal Zahri after their amazing performances on Coke Studio was a great feat and in their respective versions they both work wonders with the song. Ya Baba (Fitna Farebi) is another version, but it lives up to same point that some singers can just enliven a song, which Nakash Aziz can't in his version. But the real highlight from the various versions is Afghan Jalebi (Dumbek Version) where Akhtar Chanal Zahri unleashes his powerful vocals, and it makes you wonder why they needed so many if this one would suit the earthier and authentic setting a lot better.This version adds heavier guitar riffs and more instrumentation with tablas, and strings, so take this one over the rest.
If you're fatigued from the last four tracks, then Saware will ease you into the rest of the album. It's a lovely track with Arijit Singh bringing the indie-rock vocals that he does so brilliantly and the orchestration is top-notch too, with the pacing and guitar solos in the bridge. It gets better with the choir coming in towards the end of the track, which makes this one to keep on repeat.
Lastly, there's Nachda, which is another rock track that immediately had might have you wanting to head-bang with the heavy riffs that open the track. Shahid Mallya has such an arresting voice that we need to hear a lot more in Bollywood, he does so well here with the Sufi-rock sound of this tune. This is definitely the standout of the album, which hooks you in with that fusion sound that doesn't feel familiar even when the sarods and mandolins come in.
Phantom is quite an interesting soundtrack that would've been just as fine without four versions of the 'safe' hit song, but it's one that shows us another side to Pritam's repertoire.