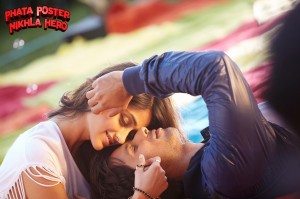 Shahid Kapoor and Ileana pair up for Rajkumar Santoshi latest comic caper, Phata Poster Nikhla Hero, releasing 20th September. Since time immemorial a Rajkumar Santoshi films boast of great music. Pritam paired with Rajkumar Santoshi for his last outing, Ajab Ghazab Ki Prem Kahani, and hopes to repeat the success of the album with this one. Does he succeed in putting out an impressive album with lyricists Amitabh Bhattacharya and Dr Irshad Kamil?
The album opens with Mika Singh in Tu Mere Agal Bagal Hai. Its your usual fun girl-wooing track with some interesting choice of words by the lyricist. Mika's trademark style is very much the essence of the track. You'll either like this one or find the lyrics way too silly to enjoy. It probably serves a better purpose for an interesting picturisation in the film rather than an interesting listen.
Tips and Atif Aslam seem to be staying strong with their unbreakable bond. Atif and Chinmayi ('Titli' – Chennai Express, 'Ay Sakhi' – Raanjhanaa) pair up for Main Rang Sharbaton Ka, the second track in the album. Its the usual Atif Aslam track you expect. He doesn't seem to be pushing himself into any new directions which makes the track somewhat a bore. Chinmayi is a pleasant listen, but then again, when is she not! The lyrics are of course romantic in nature but one cannot help noticing that the lyricists may just have been lost for words, and not in a goods way, because the same sentence tends to feature 3-4 times before the singer moves on. If you're looking for an innovative romantic number, then skip this one because its as formalistic and uncreative as they come. Fans of Arjit Singh and non-fans of Atif Aslam who like the track can rejoice because a reprise version is included in the album. Sadly for Arjit Singh fans it seems the singer seems to have an Atif Aslam hangover.
Benny Dayal enters in his pop-y- avatar with Hey Mr DJ. The track was serious fun until Shefali Alvarez ('Baatein Shuru' – Mujhse Fraaanship Karoge, 'Tu Mera Hero' – Desi Boyz) comes in with the most annoying line in a long time, 'lets go bananas' which she insists, or rather is made to sing multiple times! Shalmali Kholgade ('Pareshaan' – Ishaqzaade) isn't given much of a chance amongst the heavy techno and Shefali's repeating rendition of 'lets go bananas'. Unless you're banana vendor, this song serves very little purpose except to royally annoy you.
Rahat Fateh Ali Khan tries his best next top save the album with Mera Bina Tu with Harshdeep Kaur ('Kabira' – YJHD, 'Heer Heer' – Jab Tak Hai Jaan). This one is a soft romantic number heavy on acoustics and rife with melancholy. The track would have worked if it didn't feel like they repeated the name of the song so many times! Seems to be trend with the album thus far. An uninspiring script for the lyricists? Perhaps, for now it makes to bring down even the most decent of the album's track. (If you didn't like the duet version, skip ahead and there's a solo Rahat version included in the album)
Then we get to the much talked about item song of the film, Dhating Naach, rendered by Neha Kakkad ('Second Hand Jawaani' – Cocktail) and Indian Idol 2 contestant Nakash Aziz. Borrowing heavily from our brothers and sisters down South the track is a loud massy number setting the scene for an as loud and crazy picturisation. Another colossal disappointment with supremely poor lyrics.
Atif returns in a more impressive track Janam Janam about a mother's love. Perhaps the most thought through lyrics of the album but once again the track suffers repetition of the same lines. Also definitely a more situational track which will work to hopefully have you weeping in the cinema hall but sadly (pun intended) for now it fails to instantly grab your attention. Sunidhi Chauhan steals your heart with her version of the track and may just be the preferred version for many listeners as the emotional depth in Chauhan's voice is incomparable to the Atif version.
Safe to say Phata Poster Nikhla Hero is not by the same Pritam that gave us Barfi and Yeh Jawaani Hai Deewani. This one is the old Pritam who seems to think he's got the perfect formula for a hit album but sadly just delivers an album that is mediocre at best. 'Mera Bina Tu' and 'Janam Janam' are the best of the lot and even they suffer from flaws. It would be fair to say that a large portion of the blame has to go to both lyricists who usually give us such interesting lyrics but here fail to deliver enough lines to fill up Pritam's composition resulting in the same line being render over, and over again! Give this one a miss because honestly you won't be missing out on much!