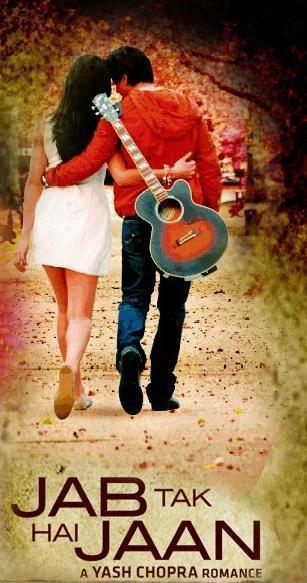 After being tormented with pictures, teasers and poems, fans were finally able to see the official theatrical trailer of the much awaited Yash Chopra film Jab Tak Hai Jaan (2012). It has currently received a massive viewing so far on YouTube and it is most likely that it will cross the one million mark! At the time of publishing it had amassed a staggering 855,062 with another 18,722 views on the trailer that includes the English subtitles for the poem. After having watched the trailer to the romantic drama, which still appears obscure as the team as Yash Raj Films do not want to unveil the main plot, many people took to Twitter and other social networking sites to express their views about it.
Interestingly a number of Bollywood's top film critics have responded very positively to the trailer. Clearly they have succumbed to the euphoria surrounding this one as the film marks Yash Chopra's return to directing after eight years. Taran Adarsh tweeted the following to Shahrukh Khan: "@iamsrk, I genuinely wish JTHJ sets new benchmarks and scales way beyond 200 Cr mark. Very hopeful!" In a previous tweet, Adarsh stated "now waiting impatiently for 13 Nov. An event movie lovers can't afford to miss!"
Anupama Chopra, another major film critic, responded to the trailer with the following tweet: "I'm a total sucker for pretty people in love and all things Yash Chopra so can't wait to see Jab Tak Hai Jaan."
CNN-IBN critic Rajeev Masand loved the trailer so much that he was actually conjecturing the plot of the film on Twitter. Masand made the following remarks: "since trailer is still so cagey abt the plot, I'll tell u 2 things abt Jab Tak Hai Jaan tht u probably don't know." "At some point in the film, SRK loses his memory. At some point, he's a waiter in London."
Jab Tak Hai Jaan also marks Shahrukh Khan's return to an intense romantic role after a while and will see him star alongside Katrina Kaif and Anushka Sharma. The trailer is definitely attention grabbing so check it out if you have not seen it yet. However, we should warn you that once you see it, it is most likely that you will be waiting impatiently like many other Bollywood fans in wanting to see the film. No matter how the film turns out, it can be said with confidence that all of us here at Bollyspice are very much looking forward to seeing Jab Tak Hai Jaan when it officially releases in cinemas on 13 November 2012!
Here is the trailer again in case you missed it or you just have to see it again and again!
httpvh://youtu.be/v0UXgoJ9Shg
Plus we have a bonus SRK translated the poem by Aditya Chopra that he reads in the trailer and here it is!