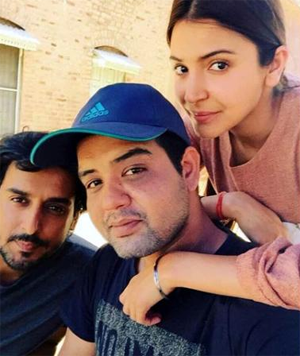 Fox Star Studios and Anushka Sharma's home production, Phillauri, will release on 31st March 2017. Shot extensively in the picturesque and colorful state of Punjab, the film stars Diljit Dosanjh, Suraj Sharma, Mehreen Pirzada and Anushka Sharma. The shoot had begun on Baisakhi earlier this year in a start-to-finish schedule that wrapped up by June end.
Co-produced by Clean Slate Films (Anushka's production banner with brother Karnesh Sharma) and Fox Star Studios, Phillauri is a fun-filled romantic Hindi film set in Phillaur, Punjab. Directed by debutant Anshai Lal & written by Anvita Dutt, the film has a unique premise- it took almost 100 years, a crazy Punjabi wedding and rank strangers to complete this love story.
"We are very happy to announce the release date of Phillauri – a romantic, fun film with loads of desi colour. It will release on 31st March 2017. Currently, the post production work is in full swing and we are excited about the way the film is shaping up," said the producers.
About Clean Slate Films
Clean Slate Films is an Indian film production company that is focused on creating relevant, entertaining and clutter-breaking cinema. Based in Mumbai, it is owned by Indian cinema star Anushka Sharma and her brother Karnesh Sharma. Committed to producing and presenting quality films with mass appeal, its debut project NH10 (2015 release, directed by Navdeep Singh; starring Anushka Sharma, Neil Bhoopalam & Darshan Kumaar) represents its core philosophy aptly. The production house has announced its second venture, Phillauri – a fun-filled romantic Hindi film set in Phillaur, Punjab. Debut director Anshai Lal will direct Anushka Sharma, popular Punjabi star Diljit Dusanjh and Suraj Sharma of Life of Pi fame in lead roles.
Clean Slate Films will concentrate on increasing outreach of Indian cinema to newer audiences and territories overseas with its endeavor to make engaging, content driven cinema that goes beyond clichés. It is now also focusing on the additional vertical of creative films for credible brands. Co-owner Anushka Sharma is herself the face of quite a few respected national brands, and her experience with commercials and brand related shoots will only add value to this new foray.