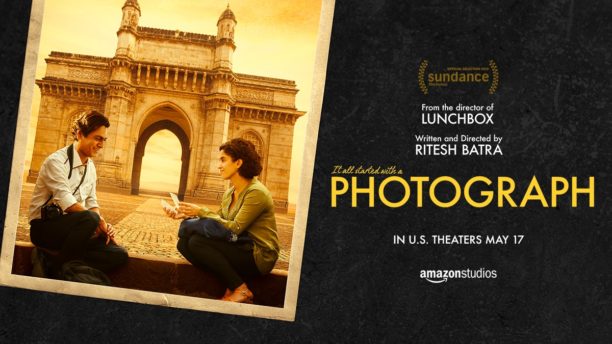 Ritesh Batra, director of the brilliant The Lunchbox and outstanding The Sense of an Ending will soon celebrate a new release. Photograph, which premiered at the Sundance Film Festival and was the centerpiece to this year's prestigious New York Indian Film Festival on May 10th will release theatrically on May 17th.
The film stars one of the finest actors in Indian cinema Nawazuddin Siddiqui, along with Sanya Malhotra (Badhaai Ho) in the main roles. It tells the story of a struggling Mumbai street photographer pressured to marry by his grandmother who convinces a shy stranger to pose as his fiancée during a family visit. How this transforms them is the crux of this softly told but wonderful film.
Have a look at the trailer

Photograph is a romance in a way, but it is more about an unspoken love and a glimpse into these characters and their feelings. You see small moments: a look in the eyes, sitting closer together, her continuing to meet Dadi, his finding a soda she likes and many more flashes into their lives that tells the love story more than saying anything out loud. It is about how their connection releases feelings and transforms them in ways they would never imagine. You feel their burgeoning connection and it is beautiful.
Nawazuddin Siddiqui… he is such a fine, fine, actor and he is brilliant in the film. I first saw him in Patang, as well as noted his small appearance in Batra's The Lunchbox and the refinement of his innate ability into his performance today is phenomenal. He has always been good but now he is incredible. He really gets into his character so much so that he changes his body language and somehow even his face. He projects his character in few words but his eyes tell so much about the soul of the character and the emotions he experiences. I loved watching his character's evolution into something more than he ever imagine he could be. I will say that while I was watching it sometimes, he did seem a little restrained and flat but now after taking it all in, that is who Rafi is! You never ever feel as if he is acting. Outstanding!
Sanya Malhotra also played a very subdued character, but so many times you could feel her wanting more, and she never says a word in those moments. You can see it in that photograph – as she says, the photograph is how she wants to be. She also has moments of life, but it is through her eyes and gentle positioning of her head. Again, sometimes I thought come on – do more, but again it is the character and you have to think on that a while and let the story, the world and characters set in. The changes she makes as the film goes on is very interesting. Her equation with Nawazuddin both as an actor and character was so well done. She was Miloni – she was not playing Miloni.
One of the highlights of the film was Farrukh Jaffar who as Dadi was absolutely brilliant. She brings such energy and emotion and life to the story. Such a sparkle in her eye, a sadness too and so much love even in anger. She really makes the film and really fleshes out the energy in the film. I loved every moment she was on-screen.
Jim Sarbh always impresses and in just a small role, even from the first moment, you get the character, and so later what happens is no surprise.
Vijay Raaz has an interesting special appearance that I can't give it away, but he is so good in just those few moments on-screen!
The rest of the cast also deserves praise for their true performances. Each one was their character – they were not playing a role. Geetanjali Kulkarni needs a special shout out for her role as the maid.
As I said, this film takes a bit to really set in and looking back you see it all to be so much more, which I think the director was going for. Batra presents a non-linear story, which was a very interesting choice that at times was jarring but in the end that made the film more compelling.
The director does rely sometimes too much on "the cool artistic shot" to make the story instead of interaction between the characters – although it may have been to slow the film down and give us a chance to think. It took away from the story for me instead of adding to it. I felt there was no need to do this, but that is a pet peeve of mine. When you see a shot of him, angle switch, a shot of her, camera angle switch, repeat and then again … the long shot up the stairway and more… I see what he was trying to do but it really took me out of the story and it is such a good story that it was annoying.
One of the best things is that you are really dropped into the lives of these characters and feel you are there with them, not watching them. You are in Mumbai taking this journey of love. You are at the gate watching her get her picture taken, in the house, in the place where Rafi stays with his friends, in the taxi, at the movies, all the moments with Dadi, and there with them when they are together finding their way into friendship and love.
Getting to the ending… Mr. Batra you did it again! It is a sense of an ending to use a phrase, but I see his tribute to Bollywood in the way that plays out and the lines that are spoken… I cannot say more because I don't want to spoil it, but it is such a thought-provoking, fascinating, how cool is that, what the heck happens moment! I think and hope it means that they live happily ever after but that is totally left up to the audience… as he always does!
Overall, this is a subtle tale, that is engaging, tender and full of love. Batra is a master at making films like this! I want to see it again, which I think speaks to the Batra's unique storytelling and the performances of the actors. Remember this has to set in for a while for you really to get the beauty of the characters, the story and the film but Absolutely watch this film.