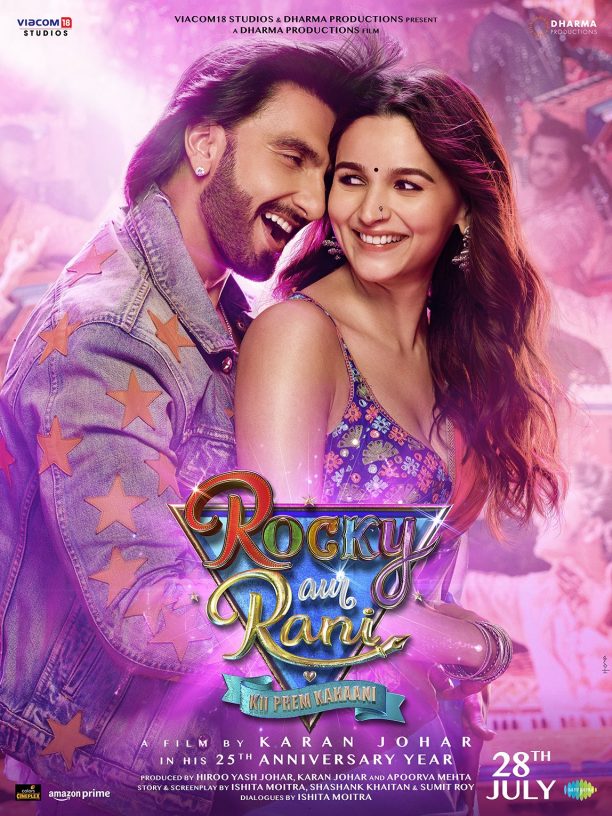 The leading actors of Rocky aur Rani Kii Prem Kahaani, Alia Bhatt and Ranveer Singh, have been on an epic promotional tour for the film across many Indian cities! The special events include chats and dance, but the stars also interacted with the fans, much to their delight, screams and dancing in the aisles! And we have some pictures and even some cool videos!
Manish Malhotra Bridal Couture Show
Before heading out for a multi-city tour, Alia and Ranveer walked the ramp as showstoppers for Manish Malhotra's Bridal Couture Show 2023 at the Jio Convention Centre in Mumbai, India. The event was live-streamed to thousands of fans, with hundreds of celebrities in attendance to see 'Rocky' and 'Rani' bring their A-game to the show.
Check out how absolutely gorgeous they are!

India's International Movement to Unite Nations Back to School series

Director Karan Johar joined the duo for India's International Movement to Unite Nations (IIMUN) Back to School series, engaging over 50,000 students across 100 Indian cities through live video conferencing. They also performed on their blockbuster song What Jhumka! At the event, sending attendees into a frenzy. Karan, Alia, and Ranveer played the fun-filled 'Never Have I Ever' game on stage, revealing interesting anecdotes about themselves and each other.
Kanpur Press Meet

At a press conference in Kanpur, Alia Bhatt praised her co-stars, saying, "There is so much to learn from Shabana Azmi, Dharmendra, and Jaya Bachchan – they are very different from each other. Shabana is like water, flowing from one emotion to another, Jaya is very funny and very hardworking, and Dharmendra is outstanding. We feel blessed to have worked with them in the film."
Spotify Premium – A Fan Experience event

At the special Spotify Premium – A Fan Experience event, Alia and Ranveer were joined by composer Pritam as well as singers Sonu Nigam & Jonita Gandhi. As a special surprise for the hundreds of fans attending the event, Sonu Nigam sang a sneak peek of 'Ro Lein De,' a yet unreleased song from the original motion picture soundtrack of Rocky aur Rani Kii Prem Kahaani.
We also have these two excellent videos!

Bareilly Promotion

Alia and Ranveer bought the city of Bareilly to a standstill when they visited the iconic Chowk (intersection) for photos at the famous Jhumka.
Kolkata Event

This week also saw the release of the fourth song from the film 'Dhindora Baje Re', sung by Darshan Raval and Bhoomi Trivedi, launched by the actors during their visit to the eastern Indian city of Kolkata.

Jaipur Event

Alia and Ranveer visited Jaipur to interact with their fans and speak about their film. Talking about what it was like being directed by Karan, Ranveer says "He's so grounded and full of love. He just gives love when he comes on set. He has an aura and a presence. He'll meet everyone with love."
The Karan Johar directed film, which also stars Dharmendra, Jaya Bachchan, and Shabana Azmi, is all set to hit the big screen on July 28th!
ICYMI, here is the trailer again!