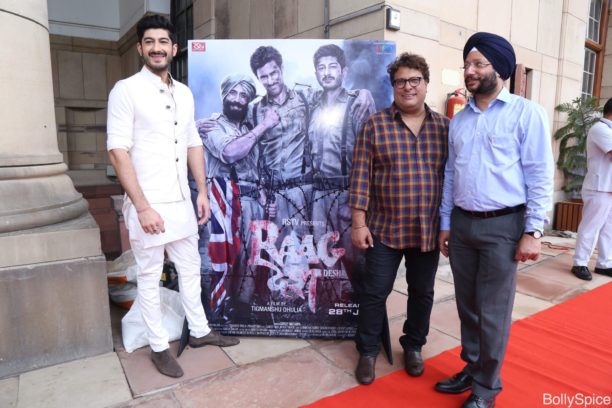 Raag Desh, in a first, was launched at the Parliament of India. Witten and directed by Tigmanshu Dhulia, the cast of Raag Desh includes Kunal Kapoor, Amit Sadh and Mohit Marwah is slated to release on 28 July, 2017.
The first trial, that of Shah Nawaz Khan, Gurubaksh Singh Dhillon and Prem Sahgal was held between November and December 1945 against the backdrop of general elections in India with the Attorney General of India, Noshirwan P. Engineer as the chief prosecutor and two dozen counsel for the defence, led by Sir Tej Bahadur Sapru. All three of the accused were charged with waging war against the king contrary to section 121 of the Indian Penal Code'. In addition, charges of murder were levelled against Dhillon and of abetment to murder against Khan and Sahgal. The defendants came from three different religions – one Hindu, one Sikh, and one Muslim – but all three elected to be defended by the defence committee set up by the Indian National Congress.
The trailer was launched in the presence of producer Gurdeep Singh Sappal, director Tigmanshu Dhulia, Mohit Marwah and Mr Rajesh Mishra, CEO of UFO Moviez.
Check out these cool pictures from the prestigious event

ICYMI