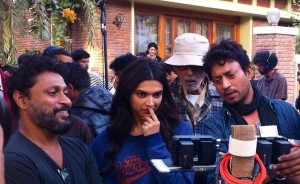 Irrfan Khan, the otherwise reserved actor, is going all out on social media with tweets and picture uploads filled with profuse praises about his upcoming family comedy drama, Shoojit Sircar's Piku, where he will be seen alongside the superstar Deepika Padukone and the legendary actor Amitabh Bachchan. The national award-winning actor has been extremely vocal about the film on Twitter not just posting pictures with the cast on the sets but also sharing nuggets of information on how he has enjoyed all the hospitality of the places where he has shot for the film.
Irrfan's affection for his co-stars has been awe-inspiring. Be it his emotional hug and peck on the cheeks of Mr Amitabh Bachchan or his tweets about Deepika flushed with admiration, the actor has put it all out for the world to see and share!
@SrBachchan 's last day of the shoot for #PIKU# couldn't resist , I had to kiss him. pic.twitter.com/JGGPluq2mc

— IrrfanK (@irrfan_k) December 5, 2014
shoot had been like a beautiful song wish it wud hv lastd LONG @ShoojitSircar @writeonj @SrBachchan @deepikapadukone pic.twitter.com/C03stMRadU

— IrrfanK (@irrfan_k) December 5, 2014
Look at this light house called @deepikapadukone pic.twitter.com/WAC1OZV0pw

— IrrfanK (@irrfan_k) December 5, 2014
This is an all new side of Irrfan Khan, one his fans have never seen before.  We are guessing the actor has something very exciting and different to share with us in Piku. All we have to say is, more power to him! Let's hope the actor keeps us posted about everything related to the movie in the coming days as well, and helps us get a peek into the film that brings together the three top stars together for the very first time!
About Piku
A family comedy drama, Piku is based on a quirky father-daughter relationship essayed by Amitabh Bachchan and Deepika Padukone with Irrfan Khan top-lining the cast, in a pivotal author backed role. Piku also marks coming together of Shoojit Sircar, Ronnie Lahiri and Juhi Chaturvedi, the team that scripted Vicky Donor.  Produced by MSM Motion Pictures (a division of Sony Entertainment Network), in association with Saraswati Entertainment Creations Limited and Rising Sun Films, Piku will release worldwide on April 30, 2015.