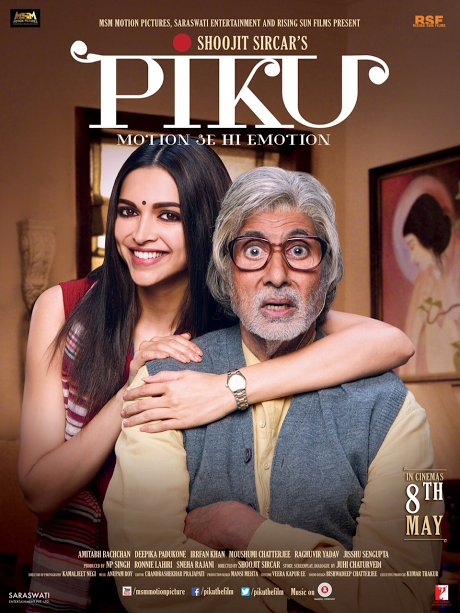 Relationships are complicated things. Real relationships are emotionally exploitative, and we are sometimes the exploited and sometimes the exploiter. The regular commercial films don't (or can't afford to) have insights like these. It is the slice of life films like Piku that show us how the relationships that suffocate us can also be the ones that mean the most to us.
So we have the perpetually irritable Piku (Deepika Padukone) whose hypochondriac father Bhaskor (Amitabh Bachchan) is obsessed with his bowel movements. A difficult man to live with, he is nonetheless the centre of Piku's universe. Into this not-so-cozy family enters Rana (Irrfan), the taxi stand owner who volunteers to drive Piku and Bhaskor to Kolkata after all his drivers refuse to drive the constantly bickering father-daughter duo. He observes them and begins to understand Piku's frustrations.
It's all about loving your parents but not the Karan Johar way. Piku looks at parents as regular human beings who can be selfish as well as manipulative with their children's affections. However, it stops short of being judgemental. What we get here are some exceptionally well fleshed out characters and their hilarious everyday interactions. Real people who shout when irritated, fight to let out their frustrations, and then forget it all immediately when a new conversation begins.
Writer Juhi Chaturvedi and director Shoojit Sircar first got together for the delightful Vicky Donor. That film was centered around sperms, this one is all about fecal emissions. And just like Vicky Donor never got sleazy despite its subject, Piku never slips into bawdy toilet humour. The writer-director duo pepper the everyday conversations between their characters with potty talk (of varied colours and sizes!) and you can't help but smile and wrinkle your nose at the same time.
However, when a film is character driven it needs more than one subject to base its conversations on. The father-daughter bickering gets repetitive after a time. Irrfan's character comes as a breath of fresh air but the centre point of interest still remains Bhaskor's constipation. This makes the narrative somewhat flat in the second half. I would have liked to see at least one tender moment between father and daughter at some point in the film for the unconventional ending to make the right impact. Too many in-your-face brand placements also take away the magic of the moment quite a number of times.
What stays magical throughout though are the brilliant performances. Amitabh Bachchan plays the eccentric Bhaskor with visible relish. The famous Big B baritone disappears, his Bengali accent sparkles, the rudeness seems inborn, and his obsession with his real/imaginary ailments is hysterical. You can feel his disappointment when his BP comes out normal and his excitement when the thermometer shows his temperature up by a single point. Then there is Irrfan who does things with his eyes and smile that very few actors can. And oh so effortlessly! Deepika surprises with a natural and highly nuanced performance. Her eyes speak volumes and never once does she seem like a lightweight in front of her great co-actors. The best thing is that none of these three actors manage to outshine the others – they come together in complete harmony on the screen. The rest of the casting is also spot on be it the hapless servant, the maid who gets fired, Bhaskor's brother and his wife, or even the drivers of Irrfan's taxi stand. Mousami Chatterjee as Piku's aunt was a delight.
Piku falls short of being a masterpiece due to too much focus on motion and not enough on emotion. Nevertheless it is a cute little film that deserves a watch. Go for it!