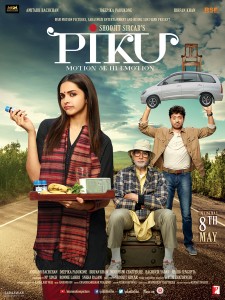 Piku is an upcoming drama/comedy directed by Shoojit Sircar. Famed for the much acclaimed Vicky Donor, Shoojit will be seen for the very first time directing legendary actor Amitabh Bachchan, as well as superstars Deepika Padukone and Irrfan Khan. Based on a father/daughter relationship, the film is scheduled to release on 8 May and promises to be a fulfilling watch. The music has been composed by Anupam Roy, who also sings a lot of the songs in this too. So what did we think of the music to Piku? Read on to uncover our verdict!
First up we have 'Bezubaan,' sung by Anupam Roy. The song has a mellow feel to it, with a soft execution of instruments such as the piano and the guitar. Although the song is not very gripping, I can understand why it has been composed the way it has. Most likely it has been composed to complement specific scenes in the film. In addition, Anupam sings very well throughout and has a smooth texture to his voice that works very well with this song.
Next up we have 'Journey Song' by Anupam Roy and the wonderful Shreya Ghoshal. This one is a little bit more upbeat and I like how the guitar has been used throughout the song, which gives a catchy feel to it. Again, Anupam sings flawlessly in this one and is definitely one of the singers to watch out for. Shreya also gives the song a unique flavour to it by reciting a mix of Bengali and Hindi lyrics. Do check this one out as I think it is unconventional and composed with a great deal of thought.
Following this is 'Lamhe Guzar Gaye' by Anupam Roy. Despite Anupam's great vocals, I found this one to be average overall and it just does not have that flare to it. However, having said this, I think it will be appreciated by others more than me. Hence, try it out and see whether or not you agree with us.
Next is the title track 'Piku' by the charismatic Sunidhi Chauhan. Sunidhi performs splendidly in this song and the composition itself is also quite fun and likable that it stays with you afterwards. It's not the best song I've heard so far this year but it is nevertheless a respectable attempt made by Anupam and Sunidhi.
Finally we have 'Teri Meri Baatein' by Anupam Roy. I love this one as it has some really well-penned lyrics attached to it. I also like the use of instruments such as the guitar, tabla and bass, which gives it a cool East-West flavour to it. I think this is my favourite song in the album and gets an overall big thumbs-up from me.
To sum up, I think the music to Piku is a nice alternative to some of the albums I have heard so far from Bollywood this year. It's not your typical commercial music; yet it contains music which I think have been nicely produced and will definitely complement the theme of the film. The big highlights are 'Journey Song' 'Piku' and 'Teri Meri Baatein,' which are worth checking out. Hence, Piku is an album that is not perfect, but has enough content that will keep you occupied.