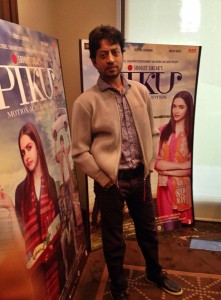 Upcoming film, PIKU, portrays the story of a father-daughter relationship played by Amitabh Bachchan and Deepika Padukone respectively. Also featuring in the film is Irrfan Khan and the film reminded the actor of his relationships with his mother and children. Irrfan says, "I am a responsible son. I have a strange relationship with my mother. We argue a lot. Our thought processes never gel and yet we openly have all kinds of conversation. I am very different as a father. I hate studies and look for excuses not to send my kids to school. I believe space for dialogue with your kids should be open all the time."
The actor is extremely driven, both on and off the screen. He explains, "My drive was to get into cinema. But looking at my face I would try to find a reference point: did anyone have this kind of face before me? I would ask myself, and I never found a reference. The closest I could think of was Mithun Chakraborty," he tells, although he admits he didn't share the actor's nimble dance moves!
In other news, the actor recently joined Facebook! Irrfan Khan is generally known to be reserved and is an enigmatic personality and so Facebook will be an excellent platform for him to reach out to his fans!
He launched his page with an activity 'A Day In The Life Of Irrfan' wherein his fans travelled with him through his page and got a sneak peek into what his day is comprised of! Irrfan Khan will be seen in Shoojit Sircar's family comedy drama – 'Piku', releasing this Friday and the hustle of Piku promotions is what we saw through the day on his timeline.
He says: "The love of my fans has get me on to this platform. I thought it was time that I open up a little and share my life with them, connect and interact with them!"