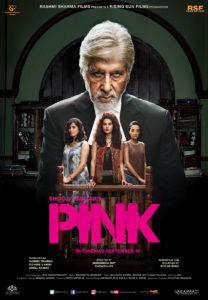 Critics worldwide and Bollywood celebrities have raved about Amitabh Bachchan starrer "PINK" – a film that highlights the victim blaming and shaming culture pertinent with sexual violence cases.
Producer Shoojit Sircar, who has previously directed Mr Bachchan in box office hit PIKU, has yet again given produced a film that will leave audiences speechless.  Some of the key reviews from critics:
STORY: Three Delhi girls – Minal (Taapsee), Falak (Kirti) and Andrea (Andrea) – are on the run after one of them escapes a molestation attempt by a pig-headed, powerful guy, Rajveer (Angad). Minal attacks Rajveer with a bottle injuring him grievously. This is just the beginning of their nightmare.
GUARDIAN UK –  4 stars
"Another notable stride forwards for Hindi cinema: a naturalistic drama that forms a serious attempt to grapple with India's emergent rape culture. Trigger warnings may be obligatory, but that's testimony to how close the film gets to some uncomfortable truths – and how well those have been shaped into this progressive,provocative,legitimately powerful statements."
TARAN ADARSH, INDIA – 4 stars
"Watched PINK, shocked, stunned and speechless – An outstanding movie in every respect. PINK is relevant raises pertinent questions, exposes double standards, mirrors harsh reality and hits you like a hard brick"
TIMES OF INDIA – 4.5 stars
Pink is a powerful statement on the existing feudal mindset of a majority of India, where men and women are judged by a different yardstick. And if the man happens to be from a powerful family, then the fight for justice is even more skewed.
Kriti Sanon tweeted:  Absolutely loved #Pink Real & super relevant!Questions the shameless mindset of our patriarchal society & hits the perfect note!a MUST WATCH So glad that films like #Pink r being made! Amazing performances, relevant content & so well paced. @ShoojitSircar @SrBachchan @taapsee
Rana Daggubati: Just saw an outstanding and by far the most important film for this country!! #Pink @SrBachchan Sir you are greatest!! @taapsee you were outstanding so so proud of you!! And a big bow to the entire cast of #Pink @ShoojitSircar thank you for bringing to us cinema like this!! #Pink
Pink raises the double standards prevalent in our society and gender violence. "#Pink is the need of the hour. We needed this film to mirror the patriarchal double standard which engulfs our society." Ayushmann Khurrana tweeted.