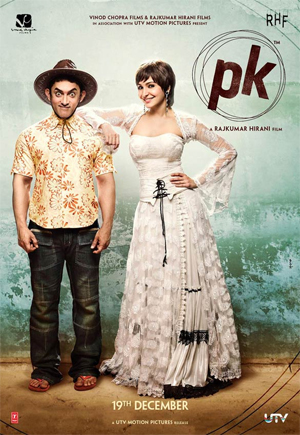 A Rajkumar Hirani film is eagerly awaited by every film lover and with good reason. He is, after all, this generation's Hrishikesh Mukherjee. His films display the same genteel storytelling, similar focus on social issues and are packed with huge dollops of entertainment. However, the most brilliant of film makers slip up now and then, and Hirani has indeed slipped a bit with PK.
A spunky journalist Jaggu (Anushka Sharma) bumps into PK (Aamir Khan) while looking for an interesting story to cover. His weird actions pique her curiosity, so do his perplexing ideas about God and religion. Eventually she finds out the astounding reasons behind his actions and vows to help him achieve his goal.
Picking a subject like this is a brave step indeed. However, OMG Oh My God is still fresh in our minds and PK loses out not just on the novelty factor here but also makes a lesser impact than the former. Main reason is that the second half of the film goes all over the place. No such complaints from the first half where the laughter keeps flowing and yet the irony in many situations registers strongly. Unfortunately, the pace drops post interval with Hirani trying to juggle too many issues and being unable to hold it all together. The romantic track between PK and Jaggu seems forced in, so do most of the songs. The weak climax adds to the feeling of dissatisfaction as one walks out of the theatre.
What stays consistently good is the performance of Aamir as the lovable weirdo. After a long time he seems to be having fun playing a character. He is also helped tremendously by some rollicking Bhojpuri dialogues. Anushka stands her own in front of Aamir with a very natural performance. Sanjay Dutt and Sushant Singh Rajput make their presence felt in small roles. The supporting cast consists mainly of Hirani regulars and they are as competent as always.
PK is not a bad film at all. In fact it is a good film. However 'good' is not what one expects from Rajkumar Hirani. When one walks into a cinema hall expecting brilliance and gets only good, there is bound to be disappointment. However, there is no denying that Hirani's weakest film is still better than 95 percent of the films released this year. Don't miss it but do keep your expectations low.