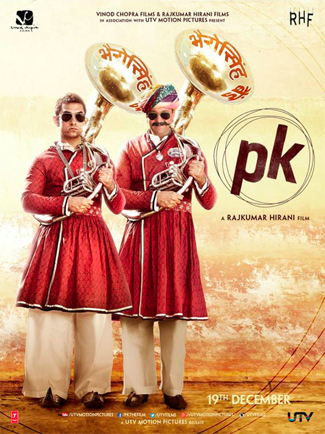 It does not get much better than Rajkumar Hirani sitting in the director's chair with Aamir Khan, Anushka Sharma, Sushant Singh Rajput, Boman Irani and Sanjay Dutt as the cast of characters in the upcoming PK.
At its heart it is a story about PK, a stranger in the city who asks questions no one has asked before. PK's innocent questions and childlike curiosity will take him on a journey of love, laughter and letting-go.
To create the music that accompanies the scenes, the situations, the relationships and the adventures of PK, Hirani brought in the great Shantanu Moitra as well as tracks by Ajay Atul and Ankit Tiwari. Adding to the pictures are the lyrics by Swanand Kirkire and Manoj Muntashir.
After reading the synopsis and seeing the trailer I really had no idea what they would imagine the music of the film would be. So what did I think of the musical world of PK? Read on!
Tharki Chokro with music composed by Ajay and Atul shoots out at a very rapid pace and it does not stop. Swaroop Khan features in the Rajasthani folk flavored song that takes you on a fun musical, and when you see the video, visual adventure. It does dial down a bit in the middle and Swaroop Khan's vocal shines even more. It has a great driving percussion and brass section. For me, it was a bit frenetic to listen to on its own but seeing the video that features Sanjay Dutt and Aamir Khan it makes total sense. Great song for the scene and Sanjay Dutt is just perfect in the sequence.
Shreya Ghosal sparkles in Nanga Punga Dost, which is a very interesting mix of a guitar, a bluegrass tinged violin riff (I could be wrong, but that is spirit I felt), some orchestral lines and then the addition some very Indian flavors. Reading that description you might think that this song does not work, and at first I thought that to be true, but as the track goes on and you listen again, it does. Shantanu Moitra always brings together unique and eclectic sounds to create something that makes great music. The violin is brilliant! The Tinga Tinga hook adds a zippy rhythmic layer that really brings in the Indian musicality for the song. I can promise the Tinga Tinga Nanga Punga Dost stanza will go through your head. I am very intrigued to see what will be playing on screen. You know with each new thing I see or hear about PK I say that! Def lend your ear to this perky happy song!
Chaar Kadam begins simply with the just perfect emotional filled voice of Shaan and an acoustic guitar and I am in heaven. The pace brightens up and Shaan adds the spark to those lines. We then get Shaan backed up by a full orchestra and his brilliant belted out vocals is the perfect measure. Shreya Ghosal adds even more brightness with her lovely vocals. With Chaar Kadam, Shantanu Moitra brings in a new sound with elements and a nod to old classic soul and he mixes it to make you want to hear more. It may have had to many sounds in parts for my ear but in the end this one feels as if it will fit into the world of PK, which makes it great.
A melodious but at the same time snappy musical line begins Love Is A Waste Of Time. With joyful inflection, Sonu Nigam and Shreya Ghosal are the voices of this light peppy song filled with fun and happiness. Will I listen to it again or add it to a playlist? Probably not, but the song seems to fit the characters, the scene and the film so I will give it and, of course, Shantanu Moitra a thumbs up.
Bhagwan Hai Kahan Re Tu had me at the first notes. Full of such gorgeous sounds that gets into your soul, this song makes you feel so much. There are many layers, tempos, emotions and musical lines and each one adds to the aura of the whole. Sonu Nigam is at his Sonu Nigam best singing with feeling in every note that honestly made me tear up. All I can say is just go listen! Bhagwan Hai Kahan Re Tu is one that has to be experienced.
The PK Dance (Theme) Instrumental really gives you the vibe and jive of Aamir's character PK. A bit confusing, a bit off, a bit mad, a bit sad in the end, but overall it is good. I have feeling we will see this in many a montage.
Ankit Tiwari does it again and moves me with his voice in Dil Darbadar. He has such haunting emotion-filled feel to his vocals. I wish they hadn't used the echo mix on his voice – I like his voice just pure. Ankit also composed the music. When it has the rock vibe I love it. The quieter sections with just his vocal are too good. Other sections are a bit too much and fall a bit flat. Since there were so many change ups, Dil Darbadar actually felt very confused musically but lyrically and vocally it made great sense. Give it a play because you have to hear Ankit Tiwari!
Over the years the music directors of Hindi films have given us great songs. Both killer tracks that fit into the movie that perhaps have more replay-ability, adding to your playlist probability and chart toppers and the fabulous situational music that is perfect perhaps only in the world and the scenes of the movie. It all depends on the film! With PK, the music directors have created the sound and the world of PK. With each song I can hear the characters, the story and the space that this film will be. Each track made me want to see what will happen on screen, what this film is about and who Aamir's character truly is. I thoroughly enjoyed my listen into that world especially Bhagwan Hai Kahan Re Tu, Dil Darbadar in parts, Nanga Punga Dost and can't wait to see them played out within the film. Give it a listen, then after you see the film, which releases on December 19th, play it again!