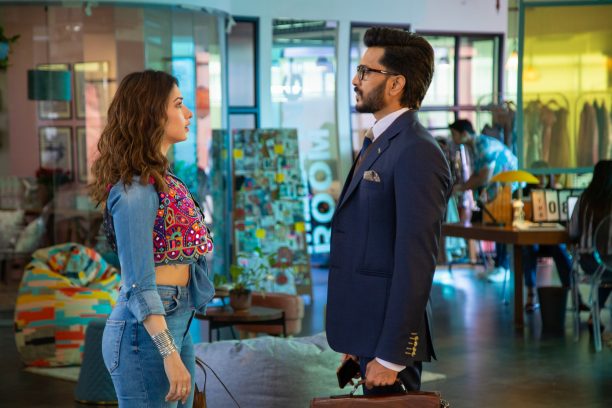 To call Plan A Plan B a cliched rom-com would be praise that it does not deserve. You're really perplexed as to how the director of Veere Di Wedding and Khoobsurat, Shashanka Ghosh, delivers of a film like this. And therein lies the truth. As much as the director is the captain of the ship, if the written material has no potential, the film is a non-starter. If only Plan A Plan B had been a non-starter!
Plan A Plan B is a lazy love story between a divorce lawyer and a psychologist-turned-matchmaker (don't ask!). She counsels her couples into believing they're a perfect match for each other through touchy-feely methods and he saves damsels in distress from unhappy marriages. And we're meant to believe this is a match made in heaven.
Along with the lazy chemistry-less love story, you're subjected to sexual innuendos more fitting for a Masti reboot, abandoned side plots, and make-out sequences out of 90s Bollywood. Makers, here is a hot tip when faced with actors who won't kiss onscreen – you don't have to write the kiss in! Go check out the beautiful Sita Ramam to see how the kissing sequence is not the be-it-end-all of a passionate love story.
One wonders what possessed Ritiesh and Tamanna to do this movie. It's not even a case of "it was good on paper". I would not be surprised if there was nothing on paper! The characters are as shallow and un-etched as the rest of the story. Ritiesh tries his best but only succeeds in grasping your attention for a minute here and there. The only thing that you notice about Tamanna are the Nishka Lulla outfits.
Shashanka's direction, a national award-winning cinematographer, and all the efforts of the actors is not enough to fool you into being impressed by this Rajat Arora script. Perhaps his writing can deliver hits on the big screen where audiences are forgiving and compromise easily. But the bar on OTT platforms is, thankfully, set to a VERY high standard. There is no way to sugarcoat this, Plan A Plan B is embarrassing and a must-avoid.