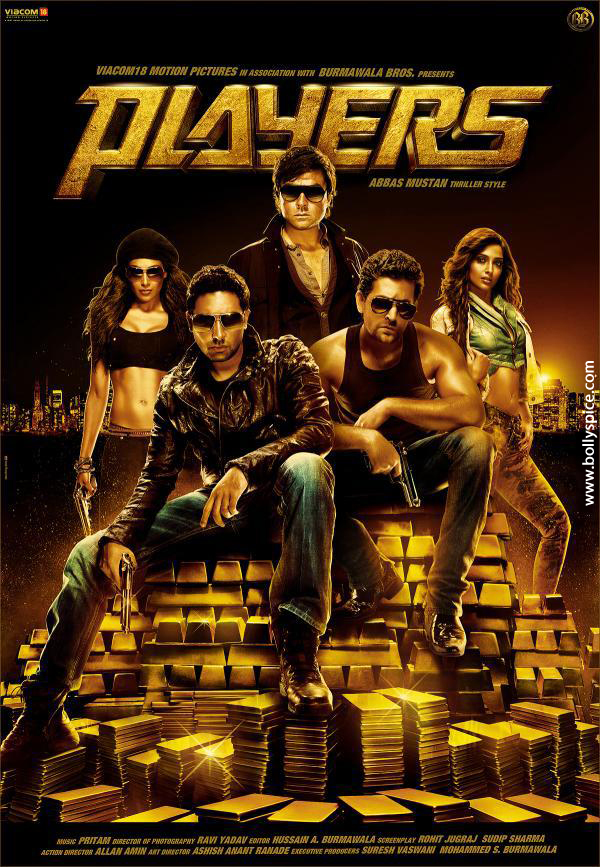 The names Abbas-Mustan evoke images of racy thrillers with twists-n-turns, dashing heroes, sexy femme fatales and good music. Their movies may lack logic at times but they rarely lack in entertainment. So it was with expectations of getting thoroughly entertained that I sat down to watch their latest offering, Players, starring Abhishek Bachchan, Bipasha Basu, Sonam Kapoor, Bobby Deol, Neil Nitin, Mukesh, Vinod Khanna,  Johnny Lever,  Omi Vaidya and Sikander.
Like many others films by the director duo, Players is also a remake of a Hollywood film – The Italian Job (though an official remake this time). Charlie (Abhishek) is a mastermind who, with the help of his mentor Victor Dada (Vinod Khanna), assembles a team of players to rob a train carrying gold worth Rs. 10,000 cr from Russia to Romania. His team consists of an automobile expert cum con artist Ria (Bipasha), a magician Ronnie (Bobby), a computer hacker Spider (Neil), an explosives expert Bilal (Sikander) and a make-up expert Sunny (Omi).  They manage to steal the gold successfully but one of the players betrays the team and takes off with the gold. The Players get together with Naina (Sonam), a computer expert and Victor's daughter, to avenge the betrayal and get back their gold….
Players is vintage Abbas-Mustan with many twists and turns but the problem is that the heroes are not dashing enough and the femme fatales are not spunky enough. Add to that bad songs, average dialogues and a screenplay of convenience, and what we get finally is a thriller which is neither racy nor engaging. Too many cinematic liberties are taken – which wouldn't have been a problem if the narrative was gripping but weak screenplay and bad acting make the flaws more glaring. Better editing could have helped especially in the second half. The film has its moments like the superbly shot train robbery, the twist before the intermission and the car-chase sequence in the pre-climax, but a few good scenes do not make a good movie.
The biggest drawback of Players is the weak acting by almost all actors which drags the film down from its potential. Most actors in Players look totally disinterested in the going-ons. Abhishek carries one single expression all through the movie and looks far from the mastermind leader he is supposed to be. Bobby merely looks bored and Vinod Khanna is so incompetent that it is difficult to believe that he is a veteran actor. Bipasha is not bad but she doesn't bring anything to the film that we haven't seen before. Sikander and Omi are nothing to write home about. However, the worst of the lot is Sonam – I don't remember the last time I saw such bad acting. Neil and Johnny are the only actors who do justice to their roles.
Players is a good opportunity gone waste. Abbas-Mustan were not in their element this time though one can't help feeling that they were severely handicapped by their choice of actors.