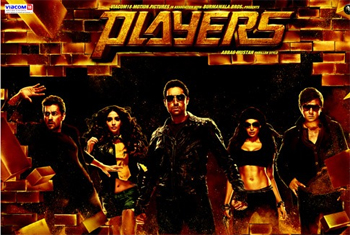 If you've seen any of the promos for Players, you'll already know that the film – a remake of the classic heist flick "The Italian Job" – has been given a thoroughly slick makeover by the directing duo Abbas-Mustan, who appear to have created one of their characteristic thrillers with a cyber-cool techno edge.
With Pritam attached to the project, the Players soundtrack has been anticipated for a while now. Pritam's last work with Abbas-Mustan, the Race soundtrack, was super popular – the question is: can he repeat that magic with his work for Players?
Jis Jagah Pe Khatam is the track that underscores the uber-cool trailer that introduces us to the key players of Players. A funky electronic groove, featuring an array of techno flourishes and an anthemic chanted chorus, the tune is almost clinical and a bit claustrophobic in its vibe – it feels super restrained and reigned in with lots of monotonous beats and tonic percussion.
The remix of the track ups the tempo and ensures the track is dancefloor ready, even adding some hip hop in there. Some fun switches in the tempo make it slightly more interesting than a regular remix. Mauli Dave, Neeraj Shriddar and Siddharth Basur handle the ultra cool vocals on both versions.
Jhoom Jhoom Ta Ja has a deliciously Eastern European influenced melody – there's an accordion in there, definitely, but listen closely and you can hear some unusual instrumentation. Ritu Pathak handles the vocals like an ethereal gypsy queen and her lovely voice stands up well against the lush instrumentation. There are obviously high hopes for this song – or it's vital to the film – because there are two more versions on the album. Jhoom Jhoom Ta Hun Main sees the track transformed into an amped up electro dance number, complete with pounding backbeat and synths, and strong soaring vocals from Siddharth Basur. Jhoom Jhoom Ta Hun Main (Film Version) preserves the techno treatment, but sees Arjit Singh, who has a slightly grittier and emotive rock sounding voice, handling the vocal duties.
Things get almost industrial with the stripped down, hypnotic Ho Gayi Tun. If you hate auto-tune this track really isn't for you, because the vocals from Yashita Yashpal are ALL auto-tune, all the time, giving it a robotic, machine-like vibe in conjuction with its hypnotic, repetitive monotonous electronic beats. It's actually pretty addictive and over too soon.
Buddhi Do Bhagwaan (Charlie's Song) is another techno/hip-hop/auto-tune mashup, with a lurching beat. The most characteristic thing about this song is the rapping from Url – I swear he is an Abhishek Bachchan soundalike! Doesn't add much or push many boundaries, but is enjoyable enough to listen to.
The requisite romantic track is provided in the form of Dil Ye Bekarar Kyun Hai – which comprises a classic soaring romantic melody, sung by Mohit Chauhan and Shreya Ghoshal, but is brought into line with the tone of the rest of the album with the ever-present auto-tune and an array of subtle electronic layers – making it actually sound more like a sped up remix of a ballad than the ballad itself! I would have liked a straightforward rendering of the song better myself but then I understand the treatment – it just seems a shame to process Mohit Chauhan's voice unnecessarily (though it seems Shreya Ghoshal's sweet vocals remain thankfully untouched).
There is an unnecessary remix version of the song on the album which just adds more effects and filters – not an improvement in my opinion.
The good news is that Pritam has created exactly the type of soundtrack to perfectly fit and complement the material onscreen. The Players album (5 original tracks, 5 remixes/alternate versions) can be summed up as a cyber-cool mood enhancer – and I think that in conjunction with visuals – some of which we've already had a taste of in the promising, well-received trailer – the songs will be effective.
The bad news? I think as a whole, listened to on its own, the album is pretty average – and if you don't like auto-tune, or excessive remixes, steer well clear.