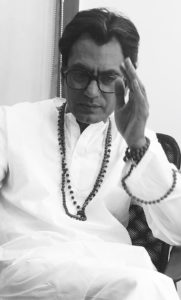 As an actor, Nawazuddin Siddiqui has come a long way from supporting cast in Sarfarosh (1999) to becoming one of the biggest actors in India today. At the trailer launch of the Balasaheb Thackeray biopic, Thackeray, helmed by Sanjay Raut, Nawazuddin Siddiqui spoke about essaying the most difficult role of his career. "When I first heard that I am doing the role of Balasaheb Thackeray, it felt like the best moment of my life! This has been the most challenging role for me," said the National Award-winning actor.
It goes without saying that portraying the role of one of the most potent and influential men of the country, would come with its own hurdles. But looking at Nawazuddin Siddiqui's onscreen aplomb, one cannot gauge the kind of effort that must have gone into the prepping for this role. As they started to shoot, and as Nawazuddin Siddiqui got into the skin of the character, and saw a sea of people shouting Balasaheb Thackeray's name, he grew anxious. Giving us a candid insight, he shared, "I couldn't ever imagine the difficulty this role would offer and I started growing nervous with time. The director helped me ease into the role while we were shooting."
"Balasaheb's personality is so imposing that one can only try to live up to it. It has been a tremendous opportunity for me as an actor and I am ever thankful to Sanjay Raut," added Nawazuddin Siddiqui.
Nawazuddin Siddiqui plays the Shiv Sena Supremo in Thackeray alongside Amrita Rao who will portray Meenatai Thackeray, with a team of dedicated national and international award-winning technicians. Presented by Sanjay Raut, produced by Raut'ers Entertainment LLP, Viacom18 Motion Pictures and Carnival Motion Pictures, directed by Abhijit Panse, Thackeray is slated for a worldwide release on January 25, 2019.