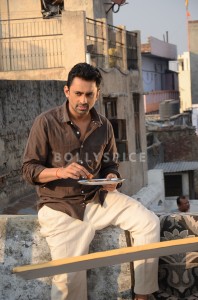 Anuj Saxena of Kkusum fame, is all set to make his mark in film industry with Sachin Gupta directed Hindi feature film Paranthe Wali Gali. It is the story of unsung love that blossoms in very famous lane of sizzling hot mouth watering paranthe in Delhi with the backdrop of theater.
Sachin Gupta, who is a theater stalwart & winner of National Award Natya Bhushan, is bringing it to cinemas on 17 January 2014. Presented by Chilsag- Civitech Motion Pictures the film Paranthe Wali Gali is produced by Sachin Gupta.  Co-Producer is Civitech and YTE is the marketing & promotional partner, this Film showcases the real charm of Old Delhi and all the local areas from Dariba Kalan to Kinari Bazaar and Khari Bawri. Its star cast includes Anuj Saxena and debutant Neha in lead.
In conversation with Anuj …
What made you take on this film knowing that it was Sachin's debut as director?
Honestly after meeting Sachin for 2 to 3 times and knowing that he is a theatre director inspired me to take on this project. In fact I was keen to work with him because he has experience of 'Broadway' theater. It is not that one gets such chance every day. When he came to me he was all done with his homework. He knew about his characters in the movie, the songs and scenes…in fact almost everything was crystal clear. I connected with him and its been a wonderful experience.
Does the reel life character connect with your real life character?
Haha, not at all! Infact it is so much opposite of what I actually am. But it was very interesting to do this character because I have never played such a role and the whole package of this character was so well planned and organized. I was willing to become like him. My friends and family are surely going to be shocked after seeing me in this role.
How different is this film from other films?
This isn't at all a typical commercial film like Bullet Raja and R. Rajkumar. But yes it's a very entertaining film. It's a sweet small film to which all North Indians will connect immediately and everyone will come out of the theatre with smiles. Infact it's a film that will enthusiast and motivate everybody from a 10 year old kid to a 70 year old person. It's a story of passion and dreams.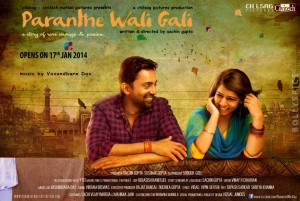 How does it feel to come back after 4 years?
I have been out of sight for such a long time from the industry, but it was such a pleasure to see that that people still remember me. During the shoot when I realized this, it was very overwhelming. Even the fans were also so happy to see me back. It was in all a very good experience shooting in the old Delhi, performing street plays in front of live audience for the film shots. Everything was so real that at time I felt as if I am really a theater actor. It truly gives me a Come Back feeling with this movie.
Any interesting incident during the shoot?
Many were there, but I will never forget the fact that I had to shoot a lot of scenes on 3rd floor and roof top. Most of the time these roofs did not even have a boundary wall or railing and I suffer from height Phobia. It was awful but as an actor one has to do whatever the director is asking. On many occasions, I felt giddy, so I avoided looking down. Another experience is of eating paranthas in real for the shot and that was a torture because I am diet conscious. Diet ka toh anth hee ho gaya thaa.
Comment on your co star Neha?
She is very bubbly and full of life. She is playing the character of live wire punjaban in the film and she has done a fantastic job. It was a pleasure working with her.