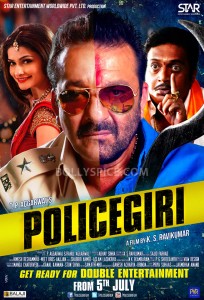 Policegiri is an upcoming Bollywood action comedy, which stars Sanjay Dutt, Prakash Raj and Prachi Desai in the leading roles. Directed by K.S. Ravikumar, the film is based on a police officer who decides to end crime and corruption that is affecting his city by tackling the local mafia. Policegiri is scheduled for release on 5 July 2013 so check it out if you have some time on your hands. The music to this film has been composed by Himesh Reshammiya and Anjjan – Meet Bros. Surely at least most of you know Himesh, who has given us soundtracks such as Son of Sardaar (2012) and Khiladi 786 (2012). Anjjan –Meet Bros have worked previously with Himesh for the album OMG: Oh My God (2012). Most of the lyrics have been written by Shabbir Ahmed, with Aslam Lashkariya contributing to the lyrics for 'Robinhood' only. So let's take a look and see if the soundtrack to Policegiri is worth the listen!
The first track is Robinhood, which has been performed by Meet Brothers Again. It is an up-tempo song with the use of a wide range of instruments such as the drums and cymbal. It is a catchy song and the composers do deserve credit for making arranging it so well. I recommend that you try it out since it is flavoursome and full of rhythm.
Next up we have Chura Ke Leja, which has been sung by Yashraj Kapil and Palak Muchhal. It contains well-written lyrics that are indeed meaningful and ones which you will remember. However, I found the composition to be average, due parts of the song containing up-tempo elements. I think with a song like this, it should have been kept wholly at a slow pace. By doing so, it would have definitely worked for me. I still advise that you give it a listen since it may appeal to a number of people. For me though, it's a song which is a one-time listen only!
Following this we have Jhoom Barabar Jhoom, which has been sung by Vineet Singh, Shabab Sabri, Aman Trikha and Pawani Pandey. Honestly, I did not find this song appealing at all, as it has a lacklustre quality to it. This applies to both the vocals and composition. Ultimately, it just sounds like a wannabe version of title song from Yash Raj Film's Jhoom Barabar Jhoom (2007). Hence, give this one a miss!
Tirat Meri Tu is next and has been performed by Vineet Singh, Shabab Sabri and Palak Muchhal. This one is definitely a winner as I found the Sufi components of the song to be well-composed, with the vocals also being nice. Though it is not outstanding, I did very much enjoy this song and would advise that you give it a chance!
Finally we have the title song Policegiri, which has been sung by Aman Trikha, Rajdeep Chatterjee, Yashraj Kapil and Keshav. I liked how the song started off with the use of the guitar, as well as a hint of bass thrown into it. However, after this, the song just collapses totally and there is not much to enjoy afterwards. I found it to be boring and one which made me daydream instead of being fixated on the song itself. Therefore, do not waste your time on this one as you will only end up daydreaming yourselves!
To sum up, there are some good songs in Policegiri that do have a likable quality to them. Yet I found a significant portion of the album to be dull and lacking in appeal. It is ultimately an album that could have been so much more if a little bit more work had been put into it. Sorry but this one is definitely not one of the best Bollywood soundtracks to have released so far this year!