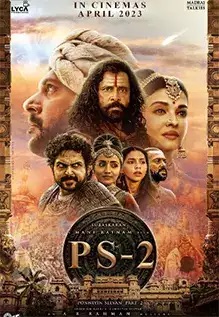 Ponniyin Selvan 2
Mani Ratnam's sprawling visually plush two-part Ponniyin Selvan has ended. I say this with a sigh of relief. The downpour of plot twists and torrent of characters, all abiding by no fixed law of existence, left me exhausted, in a good way.
Where but in Mani Ratnam's epic excursion would you get such a torrent of events. It is as though the Gods have conspired to lay bare a treasury of lost events from a time when dynasties fought their battles with the sword and didn't mind squandering their might in a game of thorns plucked from man's (and in this case woman's) very basic need to possess what is rightfully not theirs.
From the cornucopia of characters it is Aishwarya Rai Bachchan's Nandini, the Queen designate whose hunger for power is matched by her anger at the loss of love , which stands out. Aishwarya looks every inch the regal presence she is meant to. She is not just right visually, she also imbues her enigmatic character with a supple and subtle sensuality.
Sadly, the other female characters who had a strong presence in Part 1, like Trisha and Aishwarya Lekshmi are reduced to mere props. Sobhita Dhulipala barely gets a word in edgewise, and I am not complaining.
There is little room for characters to grow beyond their greed and ambitious in this epic saga, so textured in design that every costume and jewellery seems to say something about director Mani Ratnam's commitment to filling up spaces with a splendor and grace that, for once, doesn't remind us of Sanjay Leela Bhansali.
Ponnyin Selvan 1 and now 2 are a feast for the senses. The real hero of the film, besides the maverick Mani Ratnam, are the cinematographer Ravi Varman and the art director Thota Tharani.
Legends of the sprawl, the two technicians bring to life Ratnam's dreamscape. The horses gallop with a stunning swag . The women as they move across landscapes that speak of centuries of bloodshed and plunder , rustle in their secretive silks as if to temper the torrent of virile validation.
But A R Rahman's music is a massive letdown. It is soul-less and worse, pointless, generating music and songs that are as period as vinyl record players.
I wish Mani Ratnam would have allowed the characters to breathe more easily. This could have only been possible if there were less of them. The film is populated with enough characters to fill up a large village. A majority of them don't get to register as people. A blur of large-scale intrigue ignites the film's populous predilection but doesn't really give the canvas the burnished brilliance that rightfully belongs to the storytelling.
A word on the male actors. They are either grimacing or repenting, depending on whom they are with , or what they are without. Karthi's flirty Vallavaraiyan Vandiyadevan actually tells Aishwarya's Nandini, 'Even when you are crying you are the most beautiful woman I've ever seen.' Whoa!
Vikram as Nandini's long-suffering love interest Aditha Karikalan seems to be caught in an emoting expedition that sadly takes him nowhere.
It is Jayam Ravi in the title role who shoots the breeze with manly grace. A lot of the characters could have been cut out from the crowded canvas without making making a difference to the core romance. The war for the kingdoms are ever-renewable. But an endless love like the one shared by Nandini and Aditha is hard to find. Even in cinema.
A warning: don't try watching Ponniyin Selvan at home on the digital platform. It would be like watching a storm in a teacup. Also, if possible read the original novel by Kalki Krishnamurthy before getting into this dynastic quandary.