The significance of the gold medal is particularly important as it represents the dream that united a nation when India won its first gold medal as a free nation on the 12th of August 1948. The same date this year commemorates the 70th anniversary of this historic feat.
The story of GOLD highlights India's emergence from the shadow of the British Empire as it meets the British hockey team on the field, this time as a nation of its own.
GOLD is an inspirational story of a team that fought all odds to bring their nation hope, pride and respect.
Bringing alive the glorious history of Independent India's first Gold Medal at the Olympic Games held in London 1948, the actor plays a fiery fictional Bengali character, Tapan Das, who has a burning infatuation for his country and the sport of hockey.
True to his pioneering spirit and combining the perfect mix of patriotism and passion, Akshay Kumar's character is responsible for leading the post-British Indian Olympic team to their first gold medal since achieving independence in 1947.
Interestingly the actors trained for the hockey scenes but they had to train for hockey 30 years ago and those rules, but more on that later!
Check out this amazing poster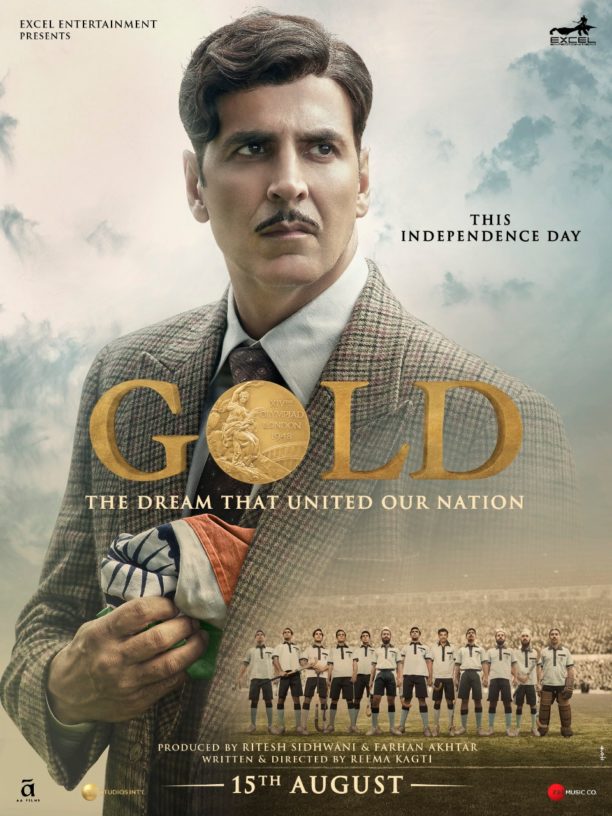 Directed by Reema Kagti, the film is produced by Excel Entertainment (Farhan Akhtar and Ritesh Sidhwani) and stars along with Akshay, Mouni Roy, KUnal Kapoor, Amit Sadh, Vineet Singh and Sunny Kaushal.
Inspired by true events, the story captures the emotional journey of a nation celebrating its right to be seen and heard as an independent state, achieving a dream which will unite an entire country.
ICYMI

We will have much more about this exciting project so stay tuned!