Vidya Balan is the champion of the female-centric genre in Bollywood and broke the trend that only movies with male actors can set the cash registers jingling at the Box Office with her movies The Dirty Picture and Kahaani.
Having won numerous awards worldwide for her acting skills, the 38-year-old actress also completed the duties of a jury member at the 2013 Cannes Film Festival.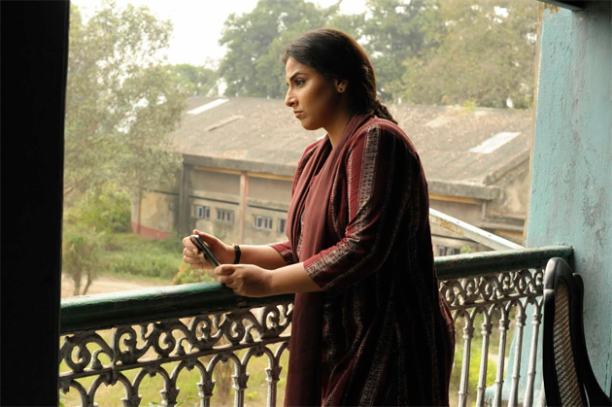 TE3N (Three) centers around John Biswas (Amitabh Bachchan) who lost his granddaughter, Angela, in a tragic kidnapping incident that scarred him and his wife Nancy forever. But eight years later, while the world has moved on, John hasn't given up his relentless quest for justice. He continues to visit the police station where he's shunned and ignored daily. He continues to revisit the spot where Angela breathed her last, hopelessly looking for clues. The only person whose help he seeks is Martin Das (Nawazuddin Siddiqui), an ex-cop turned priest, who has one thing in common with John – the death of Angela had a life altering impact on him.
When John stumbles upon a clue in a busy market, his hopes of justice and revenge are rekindled and he turns to a reluctant Father Martin. But the clue leads them nowhere, leaving John heartbroken and Martin disillusioned. Herein lies a case that might never be solved and the culprit never caught. Then one day, eight years after the tragic incident, another kidnapping echoes that of Angela's and Father Martin is once again dragged into the investigation by police officer, Sarita Sarkar (Vidya Balan).
While the priest and the police officer tackle the new kidnapping, John doggedly pieces together the identity of Angela's kidnapper from little pieces of information he collects through his own investigations. The new kidnapping that brings Father Martin and Sarita Sarkar together as a team also threatens to drive a wedge between them when the kidnapper is caught and they find themselves with conflicting views about the case. But little do they know that John is also closing in on Angela's kidnapper.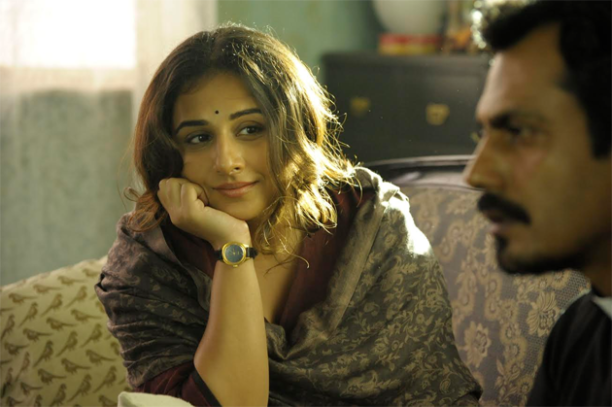 T3EN is a gripping thriller that unites these two, parallel investigations into the two kidnappings, culminating in an explosive, emotionally-charged climax.
Sunny Malik sat down with Vidya in an exclusive interview, to talk about TE3N and what's next for her. Read her answers below!
How are you feeling that you'll be seen on the silver screen again now after a bit of a gap?
It's a special feeling as my last film released a year ago. This is a special film, although just a special appearance on my part, and it releases on the day I am completing eleven years in the Indian Film industry. Parineeta, my first Hindi film, also released on the 10th June in 2005.
You mentioned you only have a special appearance in TE3N, yet you feature extensively in the trailer.
(Laughs) Everyone has been asking me this. There are three pivotal characters in the film played by Mr. Bachchan, Nawaz and myself. All of these characters have different approaches to solving this case, which is why the trailer needed to show different perspectives from different characters about the unsolved case. That's why you see quite a lot of me in the trailer and perhaps you won't see so much of me in the film. I would say it's an extended special appearance and not one with just a scene.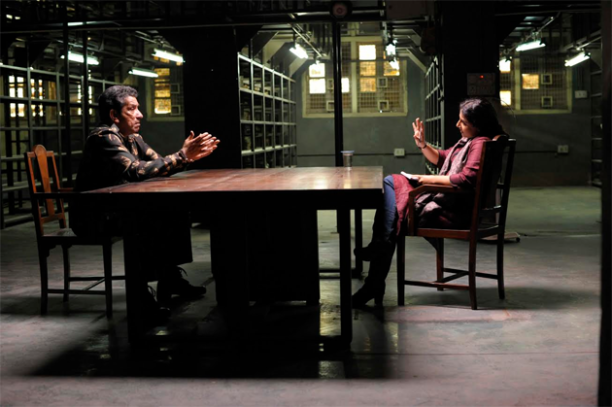 Even though it's just a special appearance, what was it about the character or the story that made you want to be a part of it?
I read the story and really liked it. As an actor sometimes you just want to enjoy playing a role without any of the added pressures. I am not carrying the film on my shoulders. I have two giants (Amitabh Bachchan & Nawazuddin Siddiqui) carrying it anyway (laughs). I liked the idea of playing a no-nonsense, tough, investigative cop. There is a backstory to the character, which is revealed in the film. So, I'll leave that for you to watch later. Thriller is my favourite genre and I am always looking forward to a film, where the director is trying to tell a story differently within that space.
Last time you shared screen-space with Amitabh Bachchan in Paa, where you portrayed his on-screen mother. How was it like working with him this time?
In Paa, I didn't feel like I was working with Mr. Bachchan. It's interesting because he played my 13-year-old son, for God's sake, and here in TE3N he plays his age. It's just amazing what kind of range he can portray. Although, we shared little screen-time for this movie, it was exciting to do so after such a long gap. He is forever inspiring.
The genre of thriller movies does well in India usually based on word-mouth. Can this theory be applied to TE3N too, that it will most likely do well at the Box Office, based on good word of mouth?
I don't really worry about the perception and expectations of the film. I feel that we have tried our best to tell the story in a way that it should be told. One always hopes that audiences will flock to the theatres to watch their movies, if not on the first day then through word of mouth. However, I don't think about it beyond that, else it becomes the primary focus of why the film is being made. As an actor, it takes away your joy.
What else can we expect from you on the big screen?
I have another special appearance in a Marathi film (Regional Indian film) called Ek Albela, where I play the role of yesteryear actress Geeta Bali. The film releases later this month. Later in the year, Kahaani 2, the sequel of my movie will release, which is very exciting. I will start filming for Begum Jaan soon, which is a partition tale focusing on a brothel which gets split into two – half belonging to Pakistan and half belonging to India.