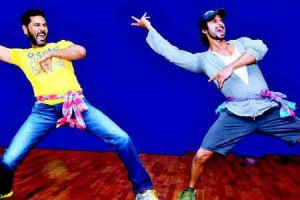 Fans get excited because two of the best dancers in Bollywood are going to be sharing the screen! Yes, the incredible Prabhu Deva and the killer Shahid Kapoor are going to be seen dancing together! Prabhu Deva is currently directing Shahid in the action film Rambo Rajkumar and for one of the song sequences we will get to see the two of them dancing side by side!
Tweeting about the experience from the set Shahid said, "Starting rehearsals with @PDdancing today ………. Funnnn. Time to nach deva style". 


Adding, "On set day#1 song 1 #RAMBORAJKUMAR with @PDdancing .. Elastic man .. dance deva …. So much fun doing the steps while I break my bones haha"
The two will be dancing to a Pritam track titled Gandi Baat, which the composer describes as "high on tempo and energy. We are confident that Gandi Baat will be loved by all."
Prabhu Deva, who says he is very excited about dancing with his star, has been tweeting these pictures from the set!
RR Day 48- Today shoot was like a big celebration, we celebrated with dance pic.twitter.com/BwDQz3LfY8

— Prabhudheva (@PDdancing) June 22, 2013
RR Day 50 – A glimpse of our song shoot.All these dancers have done a great job in the song pic.twitter.com/nnFDon8q2j

— Prabhudheva (@PDdancing) June 24, 2013
RR Day 51-Completed r song today. Thanks team n special thanks 2 @charmmeofficial for adding her beautiful charm 2 it pic.twitter.com/obYtKBdE9p

— Prabhudheva (@PDdancing) June 25, 2013
We know we can't wait to see the moves to 'Gandi Baat'!
Rambo Rajkumar will hit theaters on November 29th!