Directed by Ashish R. Shukla in his debut feature film, the psychological thriller Prague, stars Chandan Roy Sanyal, Arfi Lamba, Mayank Kumar, Sonia Bindra, Elena Kazan, Lucien Zell & Vaibhav Suman.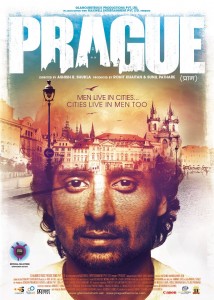 Prague, can intriguingly be described as a psychological thriller that takes you to the darkest corners of your mind, the shut down alleys of your soul and to the graveyard of your heart. This film deals with the inner conflicts of Chandan, a passionate architect who comes to Prague for a project along with his friend Gulshan, a person he idolizes and wants to emulate but also fears. Here he meets a gypsy girl, Elena, a Czech looking for her identity and love who inspires him to make a monument for the unaccounted gypsies who died during WWII. She eventually becomes the love of his life and his inspiration. Chandan however is unable to trust her due to his insecurities and the constant aggravation caused by Gulshan. Caught in a state of mental turmoil the only person Chandan can seek solace from is his friend Arfi, a man who doesn't exist anymore. All of them come together, interfering, manipulating, coaxing and torturing each other as their search for peace, freedom and love continues.
We have your first look at the teaser for the incredible Prague, which will have it's world premiere at this year's Osian's-Cinefan Film Festival.
httpvh://youtu.be/pAmbr-UjW80