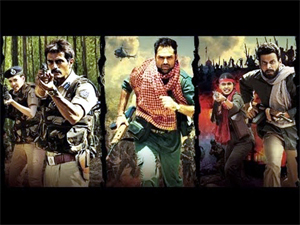 When you watch a Prakash Jha film, you always leave the theater educated about the issues he turns his camera on. With Chakravyuh, Mr. Jha tells the story of a war in India that many do not even know about. The official synopsis gives us a glimpse of what we will learn when we see the film: There is a war raging in India. A war whose end can't be seen. A war that is not being waged by outsiders. The enemy is our own! The youth of the country are rebelling… Against injustice, against tyranny, against exploitation. Inequality will not be tolerated forever. There is anger, and there is deep social unrest. Our own countrymen are locked in the bloodiest armed mutiny this country has ever seen. Chakravyuh is the story of six extraordinary characters, six indomitable characters, six parallel lives… Bound together by one story. But, when the story takes its stunning twist, it sends them hurtling towards one another – for inevitable collision. Straight into the heart of the Chakravyuh. And it unleashes a war. A war in which no one can remain neutral. A war that tests their loyalty, their trust, their love… and their friendship. Chakravyuh! A war that no one can escape… Not even you!
What is so special, and a hallmark I think, of Mr. Jha's films is that not only do we learn and think about these social issues, he presents it in a way that entertains not only with his story lines, but also with the incredible cast he brings together to live in the world he creates. For Chakravyuh the cast includes Arjun Rampal, Abhay Deol, Esha Gupta, Manoj Bajpayee, Anjali Patil and Om Puri. At the center of the conflict in Chakravyuh is the friendship between the police officer Arjun Rampal's Adil and Abhay Deol's Kabir and what happens when Kabir joins the Naxal movement.
Like his films, when you interview Mr. Jha you not only have a fabulous conversation but you walk away wiser and looking forward to seeing and learning more.
What inspired you to tell this story of Chakravyuh?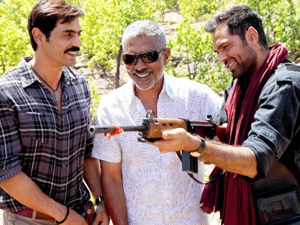 Well, the situation in this country is so alarming as far as the Naxal issue is concerned. The country's almost 200 districts are literally under siege and more than 100,000 paramilitary forces are constantly engaged in battle with thousands of armed guerrillas. So that is one thing. Also I am trying to bring the whole matter through a very engaging story on the table, so that the growing difference between the rising empire and the forgotten India comes into the picture. It is very important at this time because there is unrest about social disparity all over the world.
I have done some reading, of course, in preparation before talking with you, but can you please tell us a bit about the Naxalite movement and what the story will shine the light on?
To tell you very honestly, it started in 1967 over a matter of land in Bengal in a village where the peasants got together and they wanted their land back from the landlord. They grouped together and they killed the landlord. This thing spread like wildfire, and poor peasants whose land had been usurped by landlords started rising. The government came in support of the landlords and they suppressed this whole movement in 1967 and the years after that. It spread to Andhra Pradesh where the same land problem continued. Now the new form that it has taken is that in the entire tribal belt, where the forests are in central India. There are mines and minerals like coal, ire ore, manganese, and bauxite under the earth of these tribal villages. The forestland belongs to the government and these people have risen in arms saying we will not let you set up industries over here or take this because we don't want to be displaced. That is the battle. So one thing has led to the other. They have remained ignored; they have felt humiliated for a very long time. For them it seems like there is no one to listen to them for their rights and whatever. So they have taken to arms and they have been fueled by this Maoist ideology who thought that this is an absolutely ready kind of a population for this kind of uprising. Now it has become a menace and the government is constantly trying to work their way out. They are trying to have development in this area and the people are not allowing it to happen. They won't let a school be set; they won't let roads go in. Through this story of two friends I tried to bring out the issue, the matter, the conflict, the point of views from all angles. My co-writer, Anjum Rajabali, who had been working on the subject for a quite some time, narrated it to me in 2003 and I liked the subject then. Then I was working on Raajneeti and then Aarakshan, and then suddenly we had the time and we said let's do this one. We refreshed it, we worked the screenplay out and then we shot the film and now we present it to you.
Tell us about casting and working with Arjun Rampal. A straight laced policeman is not someone many would expect him to play.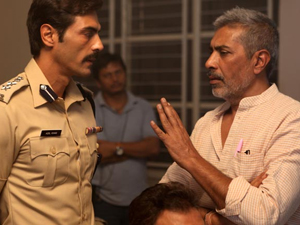 I don't know why I see everything that people can't see in these actors (Laughs). But that's how it happens. You know, when I am writing the screenplay and developing the characters, all these actors they are standing right in front of me. I see them in particular get-ups and I see them doing the part and I know, because I have worked with them and I understand or I have seen their work and I realize what they are capable of. So, I need to inform them. I need to challenge them and they deliver. That's how it works. Arjun is very focused and very dedicated.
How was it to work with Abhay Deol on this project?
It was great; he is such an educated actor. He always works on his part. He always likes to ask hundreds of questions and he would be absolutely ready and prepared for the character and the development of the character through the film. It really is a delight to work with him.
Esha Gupta is a relatively new actress; I think this is her third film.
I was looking at people and I wanted a new girl who would look like a cop. I don't know why I saw the cop in her and everyone else looks at her and says she is a glamorous queen or something of that sort. She worked for me and she has done very well.
Of course then there is the always great Manoj Bajpayee, one of my favorites!
So dependable. It is always a pleasure working with Manoj because he is so focused in what he wants to do and he prepares so well for the character in terms of his get up, in terms of his appearance, his look, his delivery and of course the character. It is a real pleasure working with Manoj.
How do you work with the cast to prepare them for this film?
I always work with the actors much before I start shooting the film. I have several, several sessions with everybody, not only the big actors but also even the small ones who have just one scene or one dialog. I work with them much before I start shooting so that they exactly know where they are, and if they are informed they will imbibe a particular body language, accent and they should have enough time to do that so that they can be comfortable and present in the scenes and their performances. See, then we start filming and I shoot the film at one go and they are all there. I never ever, ever have schedules so that works well for everybody because we are day in and day out working on the characters, working on the set. Each one is different. You have to drive them slightly differently. You have to feed them a little more a little less. That is how it works.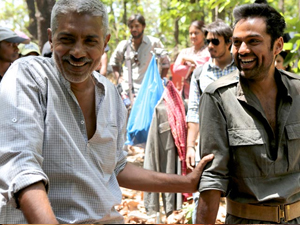 You shot in a pretty remote location for some of the film, I believe a jungle in Bhopal, tell us about that?
It was a difficult film to shoot. It was difficult in the jungles, difficult terrain very physical running around walking around. We worked hard. It was difficult, but it was fun.
Tell us about the music of the film.
I am absolutely confident about the music. There are five music directors who have worked on this film and I love each and every song. I love the music.
What do you hope audiences will take away with them after seeing the film?
It is a great story. There are songs; there is an entertainment value to it. It has a huge human drama involved and it deals with OUR LIVES so I think they will take everything. It is an engaging saga about our country going through a difficult time.
What do you think when you see the completed versions of your film? Do you think oh I could have done that or I could have done that, or this is perfect?
No, it doesn't work like that. It keeps on developing. It's like giving birth to a child and you can't designate every vision for the child, which might happen 20 years later. This child grows. So every stage from thought process, to putting it into a scenario, to then taking it and putting it into a screenplay, to planning it, to designing it, to shooting it, to editing it to putting music and final touches to it, it grows and by the time it finishes it has its own identity. Then it leaves you, it goes away, you have no control over it. Everyone else sees it and then they connect with it. That is how it happens.
What is the next film for you?
Satyagrah, it's a tale about the middle class and the unrest and the dissatisfaction that the middle class is facing all over the world. The film stars Ajay Devgn, Amitabh Bachchan, Kareena Kapoor, Arjun Rampal and Manoj Bajpayee.
Chakravyuh has a gala premiere on Thursday October 11th at the prestigious BFI London Film Festival and then October 24th it makes its theatrical release. Be sure and check out or exclusive with Arjun Rampal and stay for much more!