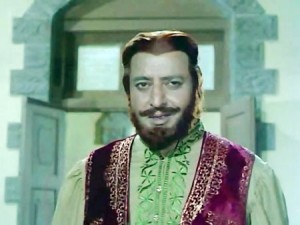 It has been confirmed that the legendary actor and iconic Bollywood villain Pran will be graciously making a cameo appearance in the remake to the 1973 classic Zanjeer. It is remembered by many for being the film which elevated Amitabh Bachchan to superstardom. Following its success, Bachchan was able to establish himself as 'the angry young man' of Hindi cinema. The remake is being directed by Amit Mehra, whose father Prakash Mehra directed the original film.
Commenting on Pran saab, who played the feisty Sher Khan in the original Zanjeer, Amit had this to say to a leading Indian newspaper: "I was a child on my father Prakash Mehra's sets when Pran saab played Sher Khan in the original Zanjeer. When I went to meet Pran saab I was delighted to find him in great spirits. Touchwood he looked hale and hearty and was in a voluble mood. Pran saab had a lot to ask about our new Zanjeer. He also shared some fabulous reminiscences with me about the shooting of Zanjeer with my father, about how my dad made Pran saab dye his hair and beard a reddish colour and put him in that Pathani suit, etc etc" Sanjay Dutt will be playing Pran saab's character in the remake, which also stars Priyanka Chopra and Ram Charan Teja in the leading roles.
In addition, Amit spoke about Pran saab's cameo appearance in the film and stated the following. "He is so full of life, so sharp and such a wonderful bank of memories. I am glad we are recreating Pran saab's Sher Khan. He told me even today people in far-off places remember him by his song 'Yaari Hai Imaan Mera' in Zanjeer. It was a turning point in Pran saab's career. We're sure the new Zanjeer would be a turning point in Mr Sanjay Dutt's career."
The remake to Zanjeer is scheduled to release sometime in 2013!