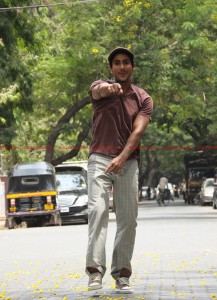 Prateik, the star of the hotly anticipated Bollywood love story Ekk Deewana Tha, has been giving his physique building tips to fans. The rising star is set to get hearts racing as love struck 'Sachin' when the film releases on 17th February through Twentieth Century Fox. The actor, who we last seen as Sushant Seth in Aarakshan, is fast becoming a heartthrob and quickly gaining female fans, which is not surprising judging from his perfect body in the latest trailers for Ekk Deewana Tha.
It is no secret that Prateik loves to visit the gym, work out and look after his appearance, so when fans approached him on the set of his latest film, impressed by his muscular appearance, they just had to ask for his fitness advice. Prateik was more than happy to offer some tips; speaking to his fans about weights, giving them advice for visiting the gym and telling them about good exercises to keep fit. Prateik also educated young fans about how important it is to look after your body and stay fit and healthy through exercise and nutrition.
Not only does Prateik have the perfect Bollywood body, he also has the perfect romantic hero heart. Prateik will be staring opposite former Miss Teen World Amy Jackson, in Gautham Menon's Ekk Deewana Tha. The film's beautiful love story is complemented by music from multi-Oscar winner, A.R. Rahman (Slumdog Millionaire) with lyrics penned by India's most popular and sought-after lyricist, Javed Akhtar.
Ekk Deewana Tha is release through Twentieth Century Fox on 17th February 2012