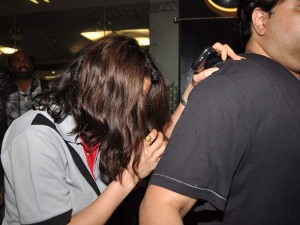 Preity Zinta who has just wrapped up filming for her debut production, Ishkq In Paris was flying back from Prague when the paparazzi's poor attempts to get a photograph of her resulted in a twist in her ankle.
The actress landed to find what she described as 'the shock of 40 camera flashes.' Although the actress stated via twitter that she would have happily posed for a photograph had they asked politely, the paps photographed her hiding her face.
In a series of tweets, the actress expressed her discomfort, "Pushed and jumped on at the airport. It was raining, so I slipped. Wasn't hiding my face, was trying to recover from the shock of 40 camera flashes. And yes, in the end I was pissed off so then I definitely didn't want to show my face."
"If photographers ask me politely I will oblige, but next time I will either attack someone or then file a police complaint because THIS IS NOT FAIR. I am a human being not some animal in the zoo! If my security would have pushed them, then news would report my staff assaulted the media."
Preity who had been shooting all night for her film before boarding the plane went on to express her relief that filming for Ishkq in Paris is over otherwise she would be "hopping around with a twisted ankle."
Although it is said that the photographers were actually waiting for Hollywood star Ashton Kutcher, once spotted, Preity Zinta dominated the photographer's attention and it seems all 40 flashes. (Source: TOI)
Well, it seems next time Preity Zinta will hit back so the paparazzi should either stay away or ask nicely. You have been warned.