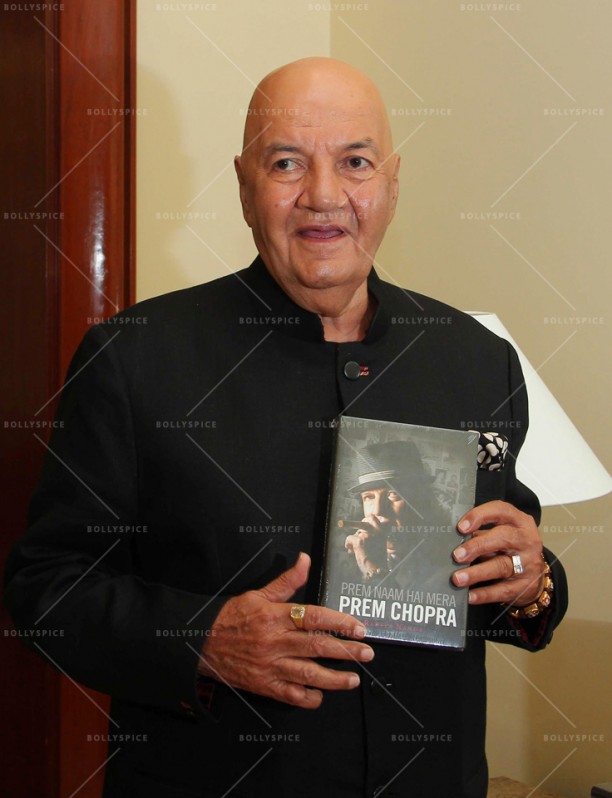 Famous for his villainous roles in Bollywood, Prem Chopra is a renowned figure in Bollywood.
A career spanning 50 years, Mr Chopra's filmography includes prominent films such as 1960's thriller Teesri Manzil, 1970's nationalist Purab aur Paschim, and the recent 2012 action-packed Agent Vinod.
It has been reported that Prem Chopra launched his autobiography entitled, "Prem Naam Hai Mera" – a famous dialogue of Mr Chopra's from the iconic Bobby, 1973.
The launch took place at JW Marriot, Mumbai, on the 14th of April 2014, for which a number of celebrities attended including Amitabh Bachchan, Manoj Kumar and Akshay Kumar.
The autobiography penned by Mr Chopra's daughter Rakita Nanda, visits legendary figures Dilip Kumar and the Big B.
Nanda told the Times of India:
"I spoke to my dad and he was game. Movie by movie we went through. I was dealing with every generation of actors – Dilip Saab (Dilip Kumar), Amitabh Bachchan – for the biography… My mom has chronicled all the clippings for past 45 years and that was a big help,"
The idea of the autobiography was inspired by the recent Bollywood centenary celebrated in 2013; Nanda told TOI:
"It started with a conversation I had with my husband Rahul. He said we were celebrating 100 years of Indian cinema and your father has been in the industry for 50 years… that should be an interesting read. That's how it started,"
The launch of the autobiography is exciting news, especially as the book traces Mr Chopra's journey from a young boy to his becoming a film star.
Mr Chopra faced parental opposition when entering Bollywood.
Not only that, but he also initially faced discouragement and setbacks in the industry.
In the words of Prem Chopra's official website www.premchopra.com, "Struggle was the name of the game."
However, a stranger on a train led Mr Chopra to his first break in films.
As they say, dreams do come true.
Check out some exclusive pictures from the launch event!