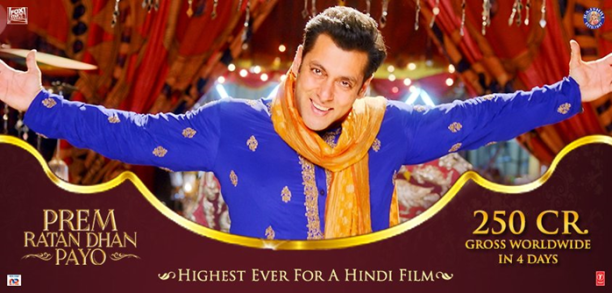 As expected the Salman Khan starrer Prem Ratan Dhan Payo has amassed huge numbers at the box office in India. In fact PRDP generated an earth-shattering opening weekend over Diwali grossing over 250 crores worldwide in just four days, the highest tally ever for a Bollywood movie.
But here is something even cooler, in North America, the Sooraj Barjatya-directed film opened in eighth place debuting higher than recent Hindi hits like Bajrangi Bhaijaan and PK which both opened in ninth place nationwide. In it's first weekend it made over $27 million.
PRDP even enjoyed a bigger opening weekend in North America than every Shah Rukh Khan film. Now playing in a record 287 theaters across US/Canada, Salman Khan's latest blockbuster has expanded Bollywood's reach into this market playing in theaters in Nebraska, South Dakota, Alabama, Iowa, and New Hampshire.
About the success and his fans, Salman Khan said, "I'll appreciate all the fans who went to the theatre already. So it's really nice of them. And all of them have loved the movie, from the feedback that I'm receiving from everyone. So it's a good feeling that after such a long time, a film like this has come and the numbers are really large."
While co-star Sonam says, "Everybody is congratulating me. What I love is that I'm getting calls and messages from people who've never messaged or called in my life. And it's people not from the industry. I've been getting a lot of calls from Indians abroad who're watching the film and missing home so much. For me, that is the best thing, when something affects you emotionally in the best way."
In case you are one of the few that have not seen it yet, Prem 'Dilwala' is a happy-go-lucky man who does 'Ramleelas' (stage plays based on Lord Rama) in Ayodhya, India. He knows all the Shlokas by heart and the purity of the scriptures resonates in all his pranks and fun. All that he earns, he donates to a charitable fund which is run by Princess Maithili. He is enchanted by the simplicity of her nature, her leading a normal life and yet being brave enough to save people in the middle of floods. He sets out to meet her. The film is all about him meeting her and the purity of the bond that they share. The film represents the unconditional love that all families must have for each other.