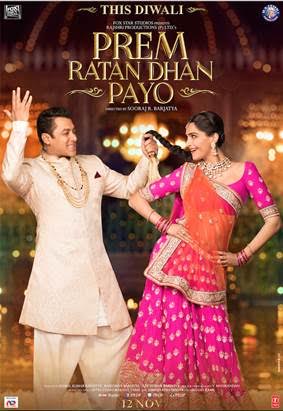 Prem Ratan Dhan Payo feels like the Rajshri that brought Maine Pyar Kiya and Hum Aapke Hain Koun in some ways good (family relationships, songs feel timeless) and bad (several very retro elements, themes feel unoriginal), but there's an important difference: It doesn't feel nearly as relatable.
The family of Prem Ratan Dhan Payo isn't even upper middle class; it's royals upon royals. These are #richpeopleproblems, where the resentment between siblings really comes down to who controls the family wealth and property, with some drama from different parentage thrown in. It's watchable, but it doesn't tug the heartstrings the same way.
The story is this: Vijay Singh (Salman Khan) is a prince on the eve of coronation to king (the first point at which you'll ask, "What era is this?") when someone tries to kill him. While Vijay is recovering from a fall from a cliff that somehow leaves him unbruised but in a coma, one of his loyal men finds a lookalike common guy named, of all things, Prem Dilwale. Prem only agrees to do it because he's already crushing on the prince's fiancée, Princess Maithili (Sonam Kapoor). Adding to the drama, is his brother Ajay (Neil Nitin Mukesh), they are in fact brothers from different mothers, and they also have sisters Chandrika and Radhika (Swara Bhaskar and Aashika Bhatiawho) who are the daughters of their dad's mistress.
Can you relate to a family in which there's tension because the two legitimate born ones live in a palace and their illegitimate-born sisters live in a smaller mansion nearby? Didn't think so. To make matters more confusing, the four children were raised together until an incident between kid-Ajay and kid-Radhika, and all four parents are dead in present time. What is a Rajshri movie without a maa or an Alok Nath dad?
Perhaps that was one of the misguided ways this movie tries to modernize the old formula forward, but some of the attempts work, some don't.
Trying to cut through the barrier this royal family setting creates to relatability, you have the prince and pauper element: Prem masquerading as the prince does all kinds of "unacceptable" things like playing soccer with respected guests (in his underwear in the rain!) instead of delivering a speech. Salman Khan lends all sorts of welcome mischievous levity with a wink and a nod, helped along by Anupam Kher as the prince's aide who wants everything proper and Deepak Dobriyal as Kanhaiya, underused as Prem's close friend but great for comic relief. Salman hams it up, cracks jokes and gives innuendo to phrases like "quality time."
And speaking of, ahem, "quality time," Maithili is not just a blushing heroine. There is a scene in which Maithili heavily comes on to Prem (as the prince), locking him in a greenhouse with her, compelling him to write on her back (which makes as little sense in the film as it does to you reading it) and forcing him to put his hands on her waist. It's nice to see her have agency but feels overly drawn out when we know the outset that Prem isn't going to "spend some quality time" with her because he's a good boy.
But for each time Maithili seems progressive, there are scenes that seem less so. Twice Maithili runs through the palace elegantly dressed, one entirely relevant — she's running to catch a last glimpse of the man she loves before he leaves — and one entirely not — after bringing his sisters back into the family, she runs to hide her face for the trademark shy "I'm-in-love" move of decades past and kickstart the title song. I couldn't help but wonder, "Who does this anymore?"
But Sonam Kapoor is twice as expressive in songs as she is in any other scene during the movie, and less annoying there because she doesn't have to fake laugh.
The real wonder here is how Neil Nitin Mukesh pulled a Game of Thrones gig out of this cringe-inducing performance in which he overacts worse than a soap star and in part of the climax sits in the corner crying like a sad puppy. (Here's hoping they kill his GoT character off before he has any serious lines.)
Like NNM, the movie too shows signs of trying too hard. The final showdown between brothers is a sword fight in a palace of mirrors on a cliff that has childhood emotional resonance, but it's compounded by windows that appear to be made from family photos. And pressing the Diwali theme a bit too hard, the movie starts with a Ramlila production (fine by itself), has the villain doling out mithai and Diwali wishes, and ends with Bhai Dooj.
If you can forgive or overlook those signs of over-eagerness to please, the movie is watchable (except Neil Nitin Mukesh) if not overly memorable. On the whole, PRDP isn't a bad movie. It just isn't a particularly good one either.