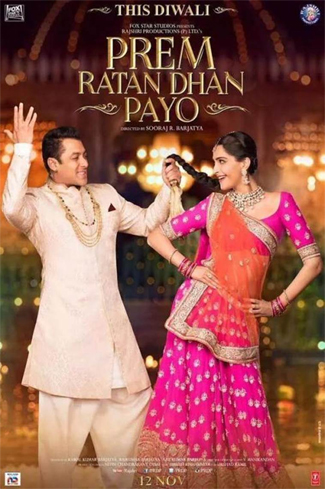 Director Sooraj Barjatya is back with his eternal Prem (Salman Khan) in tow in Prem Ratan Dhan Payo, which looks a fun throwback to the Rajshri blockbusters like Hum Aapke Hain Kaun and Hum Saath Saath Hain. He's roped in Himesh Reshammiya, who is no stranger to retro sounds with his composing work, which is both his weakness and strength to haters and fans. Yet Reshammiya shows that he's up to task in recreating the big and grand spectacles of the Rajshri songs. If we were to compare the soundtrack to a food, it's like a comfort food that delivers the goods for that short while, which is part of the Rajshri treatment that we're getting after so long.
The album kicks off with Prem Leela, which is a big and brassy number that was unveiled last week. The song is your characteristic Salman song with the loud dhols and drums, but it's the lyrics by Irshad Kamil which save the track from its typical sound. Kamil's lyrics retell the love story of Ram and Sita, but it retains its conversational tone and doesn't get too preachy.
The title track, Prem Ratan Dhan Payo, which we heard snippets of in the trailer, is a total gem and one of my favourites of the album. Palak Muchhal has a lovely voice that's uncannily similar to Shreya Ghosal, but she's got more restraint and a softer tone that completely works with the track. The tabla hook near the chorus is addictive and gets you dancing along as well. It's a perfect throwback to all those iconic tunes Rajshri is known for with its fantastic composition.
Jalte Diye has a ghazal opening by Harshdeep Kaur, but Anweshaa takes over the main vocals and has a great voice for this tune. But, it's Vineet Singh who does his best Sonu Nigam style vocals, which makes the track all the more swoony. The composition is grand in scale with a gorgeous sarangi solo during the bridge of the track. It's a great track that definitely needs to be on repeat.
If you're missing the quintessential 90s sounds of the cascading tablas, shehnaiis, and grating female chorus, then Aaj Unse Milna Hai is the song made for you. Shaan does his usual crooning in place of a Udit Narayan or Kumar Sanu who'd usually be right at home during a track like this. Irshad Kamil's lyrics keep that conversational tone that characterizes most Rajshri tracks as Shaan even wonders, "Kya kya khareednein hum?" which made me laugh! It's a catchy track but feels a bit too dated, but that's the memo of the soundtrack unfortunately.
The song also gets a female version with Aaj Unse Kehna Hai with Palak Muchhal and Aishwariya Majumdar who ably croon the lyrics, but Majumdar has a very distinctive voice which keeps the track interesting. It segues into the title song near the end, which slightly jars after Majumdar's version of the song. If that wasn't enough, there's Murli Ki Taanon Se, which is the sad version of the song where Shaan fares much better since he's always great at bringing the emotions to a lagging track. You've got three versions of the track to choose from, but I'd stick with the second.
Jab Tum Chaho is the right kind of dated material that had me head bopping along to the fun harmonium and tabla chorus. Palak Muchhal has fun with the lyrics, as do Mohammed Irfan and Darshan Raval who keep the track peppy with their matched vocals in the chorus, but both get their solos to shine. It's another fun track and reminds you that Reshammiya can bring the old-school sound.
Halo Re returns to the religious vein, this time Irshad Kamil lyrics turn to the Krishna and Radha banter that makes this song quite innovative. Aman Trikha takes the vocals and sounds perfect with the high tempo, and repetitive chorus. The arrangements are a bit cheesy with the keyboards and heavy drums, but it's that typical Rajshri flavour that satisfies in the end.
Tod Tadaiyya is basically a recycled version of Reshammiya's "Balma" from Khiladi 786, with the similar tabla melody, and Neeti Mohan's shouty vocals. It's a lazy track, but it's worth a listen for being a very PC item sounding song for such a squeaky clean soundtrack. The "ouch" and heavy breathing by Mohan makes you chuckle and wonder about how this might look on screen. Mohan and Neeraj Shridhar do their best with the oldish melody and arrangements around them.
Finally, there's a track where we hear Reshammiya and he's chosen a great one to showcase his mellifluous and non-nasally voice with Bachpan Kahan. It's perhaps the cheesiest song lyrically on an already very cheesy soundtrack, but somehow Reshammiya just sells it with his great orchestration and classical arrangements. Whether he's singing about a lost childhood or about flying kites, Reshammiya makes this lullaby work and eases its way into your heart.
Prem Ratan Dhan Payo is exactly what you're looking for from a Rajshri soundtrack: 90s retro sounds, conversational lyrics, and a song for every occasion. In that regard, Himesh Reshammiya delivers the goods with extra merit, because the compositions are solid and remain worth listening to even after the film's release. Give this one a try, it's not a guilty pleasure any more to crave that throwback sound.