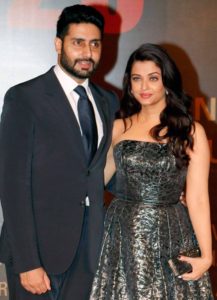 Controversy always seems to be lurking around the corner especially if you are one of the power couples of Bollywood. A recent incident on the red carpet of the Sarbjit premier had everyone wondering whether Abhishek and Aishwarya Rai Bachchan's marriage was going through a rough patch.
The couple made a special appearance at the Sarbjit premier where they were also joined on the red carpet by Aishwarya's parents as the family came out in support of her latest film.
Abhishek went on to join his wife as they posed for all the excited paparazzi eagerly waiting for a snapshot of the happy couple. Although Abhishek did join her and pose briefly, he decided to let his wife enjoy the attention she deserved and asked the photogs to focus on Aishwarya as he proceeded to walk away. This gesture seemed to have taken Aishwarya by surprise as she too excused herself and left the red carpet.
This sudden departure left fans and the photogs in complete bewilderment about the couple's actions. Obviously everyone got talking about this episode and was wondering if anything was wrong between Abhi-Ash? But we heard from a source close to the couple that there is nothing brewing. There's no trouble in paradise at all. The source said, "Abhishek and Aishwarya are very secure people. Abhishek did not want to take the centre stage and felt that it was Aishwarya's film and her moment at the red carpet. They were just there as family to stand by her and her film."