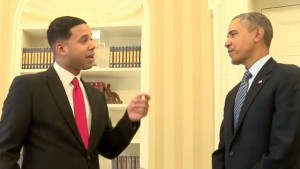 When director Abhishek Sharma began penning a spin-off to his 2010 surprise hit, Tere Bin Laden, alongside his onscreen Osama bin Laden, played by actor Pradhuman Singh, the writer-director started scouting for the perfect actor to play the character of American President, Barack Obama. He instantly knew he had found his man when he came across a video titled 'President Obama on Death of Osama bin Laden', which features American rapper-comedian, Iman Crosson, known for satirising the President's speeches through rap.
"My team got in touch with Iman who's based in Los Angeles. He flew down to Mumbai and we shot with him on a large set of Abbottabad, recreating the speech and the rap," said the director Abhishek.
Iman has been invited to the White House on two occasions and has duly impressed the President with his impersonations. In fact, Obama calls him his 'best mimic'. To top that, the President knows that Alphacat will be impersonating him in the forthcoming film Tere Bin Laden: Dead or Alive.
"Obama is the central catalyst around whom the chaos unfolds. He keeps getting sucked into the conspiracy," explains Abhishek, describing his film as a 'farce', which mocks the fact that there is no documented proof of Osama's death.
Sikandar Kher's interaction with the reel life Obama adds to the humour of the film. The actor plays a white, CIA Agent, David Do Something, who keeps misleading the President. He comes to India undercover as David Chaddha, supplanting his Texan accent for a Punjabi one.
"It's pretty hilarious. The first of its kind," promises Abhishek, whose upcoming film is independent of its first installment.
Tere Bin Laden: Dead or Alive releases in cinemas worldwide on 26th February 2016 and is distributed by Reliance Entertainment.