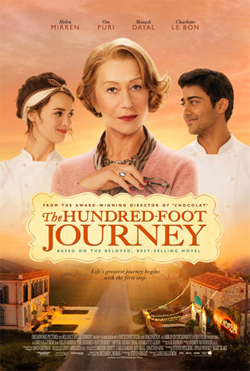 This summer, get ready for what looks like an amazing Indian story set in a small French town, featuring an International cast and brought to you by an award-winning team.
– Oscar-winning actress: Helen Mirren
– Award-winning producers: Steven Spielberg and Oprah Winfrey
– Music maestro: AR Rahman
– Bollywood stars: Om Puri & Juhi Chawla
Based on a 2010 novel by Richard C. Morais, The Hundred-Foot Journey is a simple plot of two rival restaurants in a small French town. When Hasan Haji (Manish Dayal) and his family are displaced from their home in India, he ends up in France with his family.
Upon arriving, his father (Om Puri) sets eyes on a dilapidated site, which he aims to turn into an Indian restaurant. However, just opposite the site stands the area's finest restaurant, where even the French president comes to dine. It is run by the widower and forthright Madame Mallory (Helen Mirren).
The opening of a colourful and alien cuisine does not sit well with Madame Mallory, who will do everything she can to put obstacles in the Haji family's way. Will they overcome their rivalry? Will they be able to cross their cultural differences? Will they be able to unite through the universal language of food? Find out on 8th August, when The Hundred-Foot Journey releases worldwide.
Until then, you can check out the trailer here:
https://www.youtube.com/watch?v=h6H8pAKKkgQ