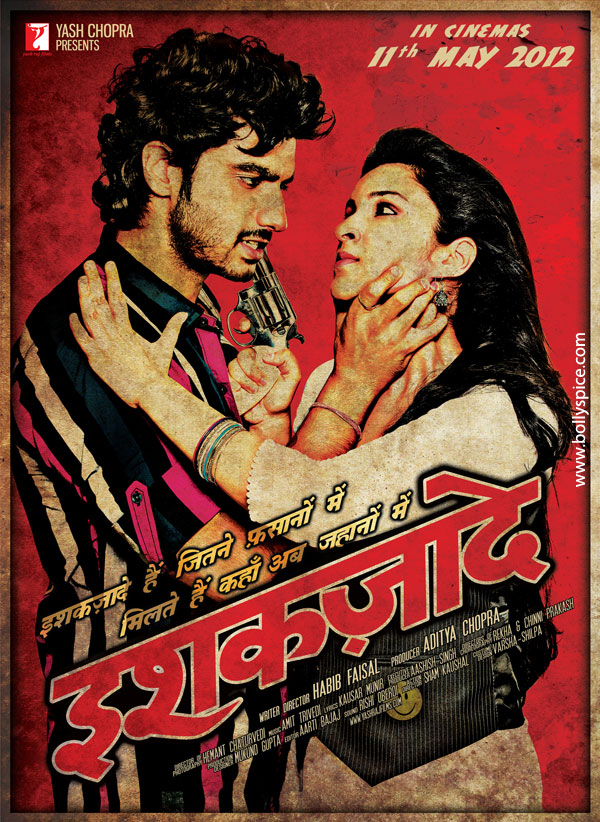 Boney Kapoor's son Arjun Kapoor makes his debut along side Parineeti Chopra in Ishaqzaade. The romantic drama has been produced under the Yash Raj Films banner and is directed by Habib Faisal. With songs like 'Aafaton ke Parinde' and 'Chokra Jawan' the music is at the top of the chart busting scene.
Ishaqzaade releases on 11th May this year.
Synopsis
Rising from the ashes of hooliganism and small town wars, comes a passionate love story ignited by hatred. A story of two people who were born to hate but destined to love.
One kingdom. One throne. Two wild animals. One totally unpredictable and the other… ferocious!
A battle… deafened by the sounds of hate, revenge, bullets and deceit. A story about two fiery bloods played by Arjun Kapoor and Parineeti Chopra, and their fight for power and supremacy.
A love story brewing in a small town… burning with hatred.
ISHAQZAADE
Character Sketches
Parma (Arjun Kapoor)
Parma is a twenty two year old, immature, short tempered bully. He idolizes his grandfather, the patriarchal head of the family. A goof ball that Parma is, his only real ambition in life is to prove himself worthy to his grandfather. Parma loves to flex his family name and power. To make his grandfather win the next elections is the primary aim of his life. How far will he go to achieve this?
Zoya (Parineeti Chopra)
Zoya is a twenty something, boisterous girl from an affluent political family. Living in Almore, a small town in India, she dreams of becoming a MLA, like a child dreams for a toy. The only girl in the all-male joint-family, she is extremely pampered but yet not spoilt. She's courageous but not rash. Zoya can be very impulsive but is not immature and is someone who can be very practical but at the same time stands for what her heart believes in.