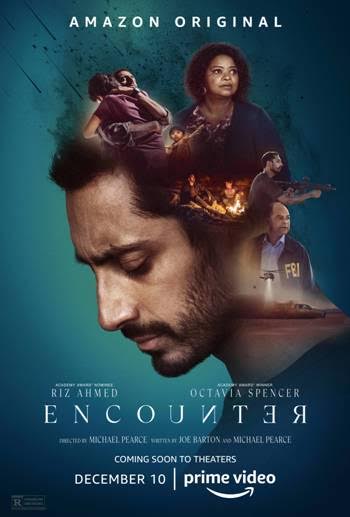 The thrilling new film starring Academy Award nominee Riz Ahmed titled Encounter will be released by Amazon Studios in theaters on December 3rd and on Prime Video on December 10th. Octavia Spencer also stars in the film directed by Michael Pearce that also features the young actors Lucian-River Chauhan and Aditya Geddada as Riz Ahmed's sons in the film. Encounter seamlessly combines elements of science fiction, psychological thriller, family drama and police procedural into a riveting and thought-provoking road adventure.
Desperate to save his two young sons, Jay and Bobby, from a mysterious threat, decorated Marine Malik Khan (Riz Ahmed) packs them in a car and sets off on a perilous journey across the western U.S. But while racing toward a secret military base in Nevada that may hold the key to safety, the trio encounters danger at every turn. Staying one step ahead of a group of government agents, Malik and the boys find themselves bonding in unexpected ways. As their relentless pursuers close in, and with time quickly running out, each of them must confront hard truths about the world, forcing Jay and Bobby to leave their childhoods behind. A gripping story of a father's mission to keep his children safe at all costs,Encounter is at once a riveting thriller and a powerful drama about a family dealing with a seemingly unstoppable enemy.
Check out the brand new trailer!
Stay tuned for more Encounter news!