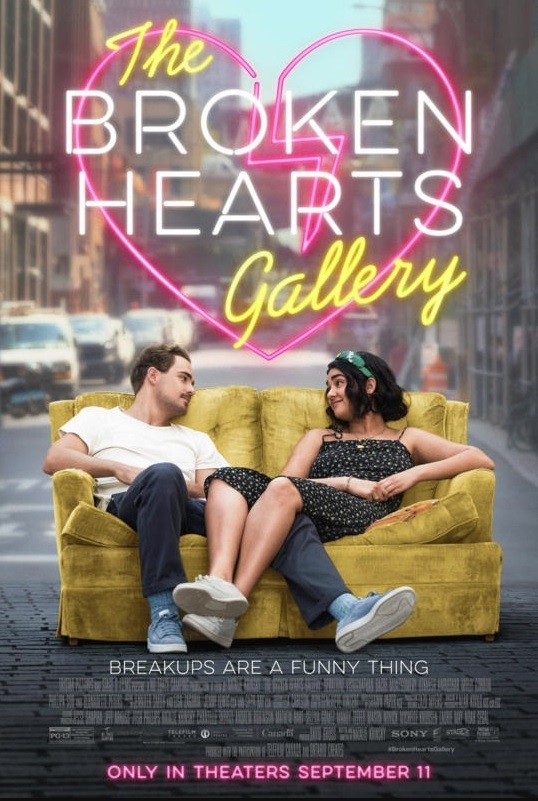 In theaters in North America now is the new romantic comedy The Broken Hearts Gallery, starring Geraldine Viswanathan, Dacre Montgomery and Utkarsh Ambudkar, the film is directed and written by Natalie Krinsky. From Executive Producer Selena Gomez, The Broken Hearts Gallery features a South Asian woman as the lead of a Hollywood rom-com. Harkening back to the golden age of Nora Ephron comedies and Richard Curtis comedies, The Broken Hearts Gallery is ready to make you get lost in the fun, the comedy, the magic, and of course the love.
 
What if you saved a souvenir from every relationship you've ever been in? THE BROKEN HEARTS GALLERY follows the always unique Lucy (Geraldine Viswanathan), a 20-something art gallery assistant living in New York City, who also happens to be an emotional hoarder. After she gets dumped by her latest boyfriend, Lucy is inspired to create The Broken Heart Gallery, a pop-up space for the items love has left behind. Word of the gallery spreads, encouraging a movement and a fresh start for all the romantics out there, including Lucy herself.
A romantic comedy about a woman with a relentlessly and refreshingly positive attitude who refuses to be dragged down by the pain of heartbreak and real life, Krinsky drew from her own experiences to write this story. She explains, "I had had a bad breakup and was struggling to make my own way in the world, and I wanted to write a movie about a girl like me. That was the guiding principle."
Selena Gomez, who is an executive producer of the film says, "We all keep the mementos of our past relationships – the ones that left us better and the ones that broke our hearts but helped us grow. It's good to have an object to spur those bittersweet memories every now and then. Those memories are part of what makes us who we are. So yes, I connected with this story right away."
Krinsky added, "This story is about what we do with pain, what we do with heartbreak. It says something about the way that we love each other and the way that we experience connections with other people, whether they be romantic or platonic relationships."
About her role, Geralidine Viswanathan said, "I really thought the script was very funny and sweet and refreshing. It had a really cool voice and after I met with Natalie, the voice behind it all, I fell in love with her."
Krinsky was similarly struck by Viswanathan. "When I first met, I said, "this is our girl," she recalls. "Geraldine is without question the most talented actress I've ever worked with. She brings an emotional depth and such wisdom to the character that even when Lucy is acting out you feel everything that she's feeling and that's a testament to Geraldine. She's an unbelievable star and I could never have hoped for someone as gifted as her."
We also learned that the friendship of the two lead actors off-camera really translated into the on-screen chemistry both Viswanathan and Montgomery said. "It was so much fun working with Dacre, my fellow Australian," says Viswanathan. "We both learned from each other. He comes from more of a dramatic background; I have more of a comedic background. We, in the way of Lucy and Nick, complement each other." Montgomery is equally effusive about his working relationship with Viswanathan. "Geraldine is so talented. She's an extremely lovely person and I think it's exactly what Nick and Lucy needed. We had a lot of great banter that works really well in the script. But I was most impressed by her ability to improvise so effortlessly. And I love that. I learned a lot."
The writer/director felt it was really important that a woman told and directed this film. "In some ways, the film embraces old school ideas about romance, like big romantic gestures. That's celebratory and fun. But I also think that it has really new school ideas about romance: ultimately the reason Lucy falls for Nick is that Nick respects her for who she is and also supports her success – that was one of the things I identified with most about her. I think it's important for women to tell these stories, because these stories are layered and important, and the more we tell them, the more successful we can be."
Be sure to go see The Broken Hearts Gallery!
Check out these fun videos plus stills!
Meet Lucy

Meet Nick

I'm Nick

Like Art

Ex memorial