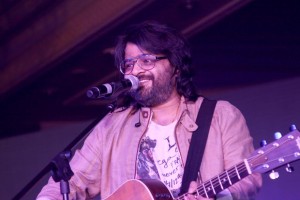 Ace music director Pritam Chakraborty is scoring music for the home productions for all the three Khans – Salman, Shah Rukh and Aamir.
Pritam Chakraborty returned from his self-imposed year-long hiatus and hit bulls-eye at the BO with his comeback film itself. And while Pritam's chartbuster tracks in the Salman Khan-starrer Bajrangi Bhaijaan were creating waves in the music circuit, he was already working on his films with the other two superstar Khans – Shah Rukh and Aamir and doing what no other music director has been able to do in the recent years.
What's more, the reigning music-director is not just scoring music for the three Khans in the same year, but more interestingly all the three films are the home productions of the three stars. So, while Bajrangi was Salman's home production, Pritam's next Dilwale is being produced by SRK and Dangal is being produced by Aamir Khan.
When asked about the work Pritam informed that all the three Khans have "unique tastes in music."
"They are the senior-most actors in the industry, and the biggest superstars. All of them have unique tastes. I am glad to be associated with their films. I have worked with Salman recently, and I am working on Shah Rukh's film and Aamir's upcoming project as well," said the composer adding that all three Khans get "involved in the music-making process."  Pritam also points out that it is easier to compose music for romantic movies as compared to films like Bajrangi Bhaijaan or Aamir's upcoming film. "Scoring for such movies can be a bit tricky, as they don't have predictable situations," he says.