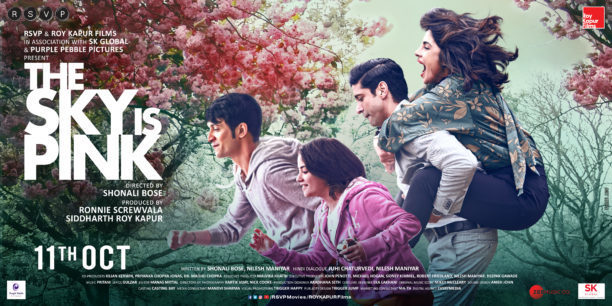 The Sky is Pink starring Priyanka Chopra Jonas, Farhan Akhtar, Zaira Wasim, and Rohit Saraf is getting ready for its theatrical release on October 11th. The moving, heartfelt film has received an incredible response with a 15 minute standing ovation at its premiere at the Toronto International Film Festival and most recently at BFI's London Film Festival, the film garnered cheers, and 2 more lengthy standing ovations at the special European premiere!
The Sky is Pink is a story of a family that never gives up despite all the odds and is an amazing love story of a couple that traverses decades and continents told through the lens of their sassy, sardonic, spunky teenage daughter, Aisha, who happens to have a terminal illness. Unexpectedly humorous, warm and heart wrenching all at once as the magic of life and beauty of death manifest in one family's unusual, courageous journey in this 100% true story.
To bring The Sky Is Pink and the story of the family it portrays to life on reel, National Award winning filmmaker Shonali Bose made sure that the appearance of her lead actors, Priyanka Chopra Jonas and Farhan Akhtar justified the timeline that spans 30 years.

Talking about the progression of their characters in the film, she says, "With Priyanka what I decided to do with my designers was to start long hair and then to keep going shorter as she aged. So, when she is younger at the age of 25-26, her hair is longer. It really helped her actually do that part of the young person as she is flinging her hair around. And when she is at the oldest at 50, she has short hair which is very distinct so when you the short hair you immediately know what she is going through at that time."

Farhan Akhtar's appearance also goes through a lot of changes in the film. His hairstyles are imminent in this transformation. Bose adds, "With Farhan, we did a curly wig for him for his younger days and made him sleeker and groomed as he also became a CEO and used a distinct mustache for the later scenes."
Sharing the experience of playing the role, Priyanka said, "The Sky is Pink is a love story that spans 30 years… it starts where most film love stories end… after the romance comes marriage, kids, careers and just everyday life. It's an incredible, unique story of hope, love, family and living life to the fullest. It's a reminder of how we need to celebrate the life we have and the people we love. It's the 3rd time I'm essaying the role based on a real-life person and it has been a privilege to essay the character of Aditi. I'm honored that Aditi and Shonali have trusted and chosen me to tell this amazing story."
Farhan Akhtar revealed, "I think being honest to the character was the greatest challenge, in terms of the writing as well as Shonali's direction. When I read the script, I was blown away by the Chaudharys. They didn't succumb to grief at all. They were like instead of moping about what's around the corner, let's just make today incredible. That little switch in the mind is all it takes which was very inspiring for me. I never tried to imitate Niren in the film but I understood that at the core, the emotions were similar."
For more about Priyanka's Aditi aka Moose and Farhan's Niren aka Panda we also have this very special behind the scenes look!

The real Aditi and Niren Chaudhary saw the film when it premiered at TIFF and had nothing but praise for the actors' performances.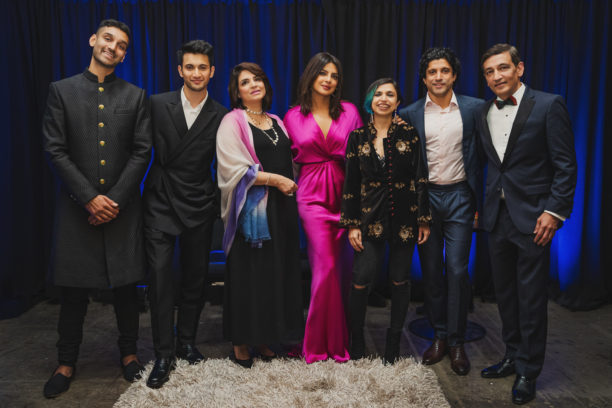 Aditi Chaudhary shared, "I am grateful that a prominent, powerful woman like Priyanka is portraying Aisha's mother. The actors portraying us are perfect; we couldn't have asked for more."
Niren Chaudhary said, "I have admired and been inspired by Farhan for so many years and was delighted that he got to play my role – he is effortless, authentic and extremely powerful in the film: he is truly fantastic both on and off the screen!"
Written by Shonali Bose and Nilesh Maniyar, The Sky is Pink, which hits theaters October 11th, is produced by RSVP and Roy Kapur Films, in association with S K Global and Purple Pebble Pictures.
Keep an eye out on BollySpice for more on this very special film!
ICYMI