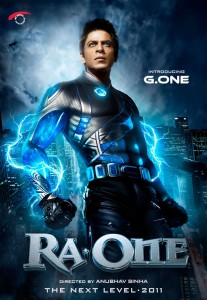 Shah Rukh Khan is leaving no stone unturned to make his dream project Ra.One a film to remember. Adding to the star quality in the project he has now asked two of his good friends to do a cameo in the film: Priyanka Chopra and Sanjay Dutt. Both of them have been shooting together for Karan Johar's Agneepath remake, and according to sources both willingly agreed to appear in Ra.One.
"Khan felt Ra.One needed some more drama with fun and action elements," the sources say. Shah Rukh and director Anubhav Sinha were very impressed with Sanju's fabulous muscular body and bald look for Agneepath, and they decided to rope him in for a sequence in Ra.One. Shah Rukh asked Sanjay first and then Priyanka as well for the cameo sequence. With Priyanka, Shah Rukh shares a great rapport after having worked with her for Don and Don 2; he considers her one of the industry's finest actresses. Incredibly enough, the 'Deewangi' song in Om Shanti Om is up till now the only scene featuring Shah Rukh and Sanju together in a film, Shah Rukh loves Sanju very much and always has looked up to him as an elder brother.
The cameo apparently has Shah Rukh, Sanju and Priyanka coming together in a very stylised action sequence. "When they approached Sanju, his dates were blocked with Karan Johar for Agneepath. Karan graciously gave a few of Dutt's dates for Ra.One, and both he and SRK requested Dutt to do the cameo. Of course, he immediately agreed." Sanju even suggested some own ideas for the scene so Shah Rukh and Sinha extended the shooting with him, which was to be for just one day, by some days more. "SRK and Anubhav want Sanju to do some great action scenes. Sanju is very excited about doing such hard-hitting action again and has been giving his inputs to the scenes," reveal the source.
Other sources describe Priyanka's cameo as "a long-drawn out romantic sequence". "It will require her to perform a lot of stunts as well. Ra.One is essentially a fantasy film, and this is sort of a sweet dream sequence."
Well, we'll know for sure about these cameos once the film releases on Diwali this year. Then we will also know whether Priyanka's cameo is combined with an item number, what Manish Malhotra's costumes for her will look like and whether Sanju will sport is deadly bald look in Ra.One too. We know we can't wait!