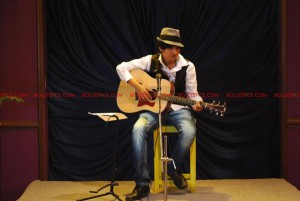 The music industry in India is demanding and competitive, to say the least. The exceptional voices of the likes of KK, Kailash Kher, Sunidhi Chauhan and Shreya Ghoshal have dominated playback singing in Bollywood in recent times and these days, the impact of the western culture on young talent, has helped bring in a variety to complement conventional quality.
For all you music fans out there, there's a new name on the block – Armaan Malik.
This guy can sing, write music and dance. And boy, is he inspirational with a guitar in his hands! His cover, of the hit Bruno Mars single 'Just The Way You Are,' has gained huge traction on Youtube, and has even gotten Bollywood celebrities to stand up and take notice; his growing fan base already includes Bollywood beauty Priyanka Chopra – how many teenagers can actually say that? The Don 2 superstar tweeted about how Armaan is a "talented young singer" and asked everyone on Twitter to come "show some love." Quite the compliment, coming from an established name in Bollywood!

The likes of Gul Panag and Maria Goretti were also quite charmed by Armaan, and let their thoughts out on the social media platform, while enigmatic music director Salim Merchant said that Armaan is set "to go places." If you guys still aren't convinced, check Armaan out on the link given below.

From our side, we're sure that even Bruno Mars would approve!
httpvh://www.youtube.com/watch?v=YJgdn_GvDyI