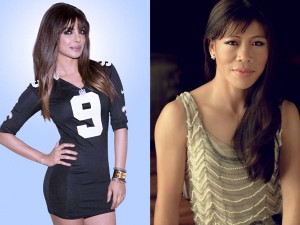 Very soon on a screen near you, you will be watching Priyanka Chopra don a pair of boxing gloves as she gets inside a boxing ring for Sanjay Leela Bhansali's next film – a biopic on Mary Kom. Mary Kom is the five times world boxing champion and Olympic 2012 bronze medallist. Chopra is playing the part of champion Kom and bringing her remarkable achievements to the big screen.
Born and raised in Manipur, Kom had initially tried to keep her love for boxing a secret as it was not considered the most appropriate of sports for women to be involved in. However, the secret was let out when her talent was discovered by her father through a newspaper photograph of her victory in 2000.
Kom is the only woman to have won a medal for each of the six world championships. Chopra is getting into the skin of her character by spending time with Kom. Chopra tweeted: "Now off to my first meeting with the one and only Kom! Will make her teach me how to wear boxing gloves." According to Hindustan Times, Kom is also giving Chopra an insight into her home town and her world- "We are going to sit for a day or two and discuss it. I am happy that she will come (to Manipur) and see how I live."
The film is directed by Omung Kumar and according to IANS, 'will be going on the floors early next year'. Don't forget to cheer Chopra on as she gets ready to rumble!