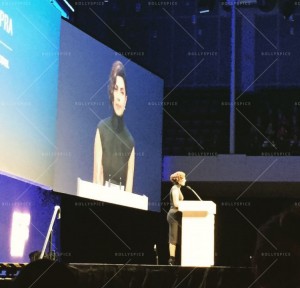 Global icon Priyanka Chopra shared the stage with Former US President Bill Clinton, former UK Prime Minister Gordon Brown, Apple co-founder  Steve Wozniak, former President of the Soviet Union Mikhail Gorbachev, and the first female Deputy Prime Minister of Australia Julia Gillard at an event in Boston recently.
Chopra's  speech was about girl education, a topic the actress feels strongly about and has been endorsing  for many years.
More than 2,500 guests attended EF's 'A Day With World Leaders,' including EF employees, students and teachersfrom EF's Boston Language School and the Hult International Business School Boston/Cambridge campus, as well as local dignitaries and guests who have contributed to EF's success during its first 50 years in business.
Priyanka says, "It was a huge honour to share the same platform as this illustrious group who are as passionate about this cause as I am. It was great to share ideas and discuss various opportunities to drive change. I went to high school in Boston. So to me it was almost like coming full circle. It's great to be back here and to see my old friends and my family."