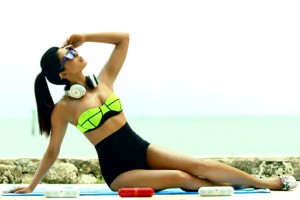 It is aware of Priyanka Chopra's growing international success through here music with two of her hits featuring international sensations Will.i.am and Pitbull. By this Priyanka hopes to weave a pathway for many Indian singers to ease in on an international level.  "We have such incredible talent in India when it comes to music, voices that I hope get the opportunity that I have got to foray (into the international market)… (and it) will pave a way for lot more Indian artists to come up," Priyanka said recently.
Her latest single 'Exotic' featuring Pitbull released leading to over 3 million views on YouTube in just 3 days. Even though her singing career is taking off, Priyanka is still not going to step down from the Indian film industry. "In India, our culture is that we (actors) don't have to sing in our films. It's been there and it has been very successful. There have been a lot of actors who have dabbled with singing – Amitabh Bachchan has… so many people have tried it, it's fun," Priyanka said.
Although, she isn't completely ruling it out just yet.  She may sing her songs herself sometimes, and maybe not other times. "If it happens, you never know. Someone can sing their own playback, may be not or mix it up. I don't think we should put that kind of pressure on something that has been going well for Hindi movies for so long," she added.
Regardless of which pathway Priyanka takes, it's sure to say she will shine.