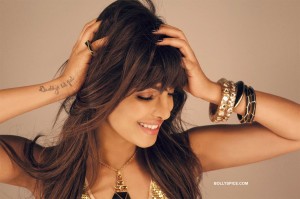 Priyanka Chopra is all set to for the female lead role of Zindagi Na Milegi Dobara's director Zoya Akhtar's next film. PC will play leading male Ranveer Singh's sister. The story of the film is family drama's in regard to siblings.
Right now, the main gossip going around is who is going to play PC's love interest. It's been nailed down to two; Hrithik Roshan and Farhan Akhtar.
On one hand it's known that PC and Hrithik make a great pair on screen and give successful films such as Krrish and Agneepath. On the other hand Farhan has also worked on successful box office films such as Luck By Chance and of course Zindagi Na Milegi Dobara.
Unfortunately Farhan's three new projects are not done by his production house and therefore he could possibly be too booked out and not have many free dates for his sister Zoya's upcoming film which is scheduled to start by the end of 2013 if not beginning of 2014.
Right now everyone just has to just sit and wait for officials to come out and say who it will be.