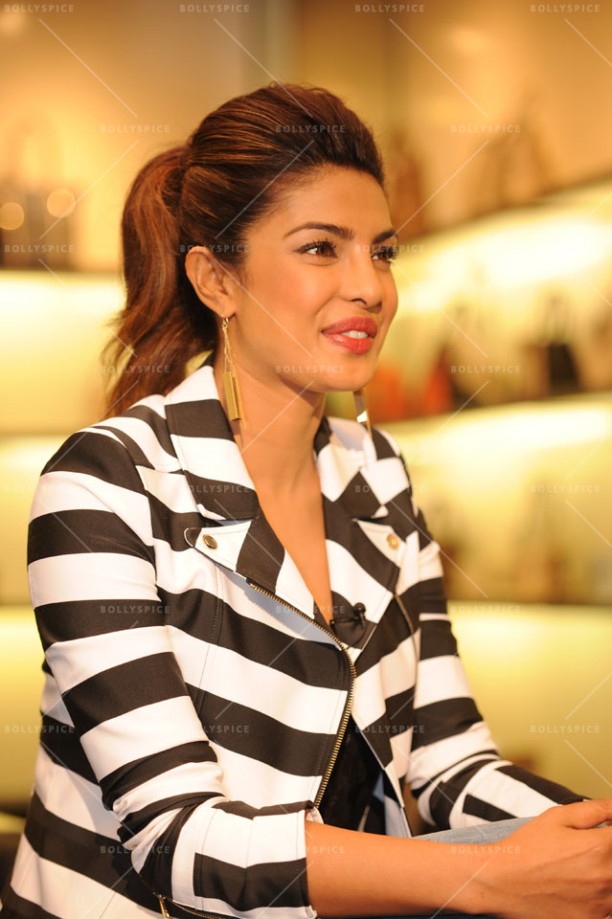 The gorgeous and world-famous Priyanka Chopra interacted with her fans at the 'Guess Loves Priyanka' event at a GUESS store on Regent Street, London yesterday.
At the event, the international star, gave fans a sneak preview of her upcoming solo single 'I Can't Make You Love Me' and she also signed print catalogs of her GUESS campaign, Holiday 2013, shot by Bryan Adams, for over 200 fans.
Priyanka was signed by Universal Music, DesiHits and Interscope Records in late 2011 and released two singles, 'In My City' and 'Exotic' featuring will.I.am and Pitbull respectively, in the US and India last year. This event marked her first UK promotions as a recording artist and as the brand ambassador of GUESS.
Bringing Regent Street to a standstill while speaking to thousands of fans waiting outside the store, Priyanka said, "I keep coming to London and keep seeing you all. It feels really great that all of you have come here to see me."
Priyanka is not new to being a brand ambassador for a global brand. She has been the face of Pepsi and Nokia among many others. But how does it work being a GUESS girl for a western audience? "I don't know how it's going to work. I like to do new things and I am very proud to be a GUESS girl. GUESS has always had these beautiful blonde women as their brand ambassadors and I am really happy that I am the first GUESS girl of a different ethnicity. I always like to do things better than what I have done before. That is what I am aiming at. I just really enjoyed shooting the campaign which was shot by Bryan Adams," said Priyanka.
In the US, the PR blitz for the campaign worked very well with ads being featured in popular fashion magazines. "I haven't actually seen all these magazines featuring the campaign but of course, it feels nice. I don't know what GUESS is planning for the UK market in terms of advertising as only they can answer that," revealed Priyanka.
Talking about the new single which will release in the next few months, she said, "The single is called I Can't Make You Love Me. It's my first solo single and a cover of the same song by Bonnie Raitt. She is one of the people why I became a singer. My cover is really different because the original is a ballad and we have used dance music for my version of the song. When we were deciding on my next single, I really wanted I Can't Make You Love Me to be my first solo single."
The sultry star has just finished filming for the video of the song in LA which was directed by Jeff Nicholas and Jonathan Craven who are known for their recently directed Rihanna's music video 'What Now'. The Exotic singer said, "I don't know much about their previous work but yes we just shot the video in LA and they were amazing to work with."
Our Bollywood reporter Sunny Malik also asked Priyanka what item from the GUESS store she would select if she was shopping for him. "A pair of jeans for sure. GUESS sells amazing jeans and they suit anyone."
Check out some more images from the event!
(Photo credit: Hayat Khan)